Integrated Tolerance Analysis for SOLIDWORKS - the Upcoming Production Release of 3DCS for SOLIDWORKS
by Benjamin Reese, on Jan 29, 2020 3:00:40 PM
3DCS for SOLIDWORKS Production Release Coming Soon
The full version of 3DCS for SOLIDWORKS is coming out in just a few weeks. Join DCS at 3DEXPERIENCE WORLD 2020 to see the new version of 3DCS in action.
As featured in Manufacturing Best Practices Magazine
Dimensional Control Systems' (DCS) 3DCS Variation Analyst technology is a mature, robust tool that has been in the market for more than two decades and is used by the world's leading manufacturers to reduce their costs of quality. In January, 3DCS will be fully integrated into SOLIDWORKS CAD platform.

3DCS Variation Analyst for SOLIDWORKS is a fully integrated scalable tolerance analysis solution set that simulates product assembly and manufacturing processes, as well as part tolerances, in a 3D stack-up through several types of analysis; Monte Carlo Simulation, sensitivity, equation-based, and worst case analysis.
The driving force behind the integration of 3DCS software into SOLIDWORKS is the continuing complexity of products developed on the SOLIDWORKS platform. There was a point in time where DCS had considered integrating into SOLIDWORKS, with customers asking for it, but didn't believe there was enough demand. Over the past 5 years, there are more and more companies that are building sophisticated products in SOLIDWORKS. For example, the Medical Device industry, electronics packaging and semi-conductors industries that are analyzing complex, multi-part assemblies and now require a more complex tool to handle these analyses. .
Where 3DCS software has historically been in complex multi-stage assemblies, like automotive sheet metal and aerospace structural assemblies, now, some of those similar requirements are showing up in these other markets which have brought DCS to the point where it is time to bring this tool set to the SOLIDWORKS marketplace.
Value of CAD Integration
"Our objective is to seamlessly integrate all the data sets already within the system so that it is accurate and stays up to date," said Dave Johnson, 3DCS Product Manager. "Integrating directly within the CAD environment provides a number of direct benefits; no need to re-author data, ability to work directly with CAD math data, assembly structure, PMI, GD&T, all without any conversion or back and forth, typing in values. What's more, as the design changes, the model automatically updates. "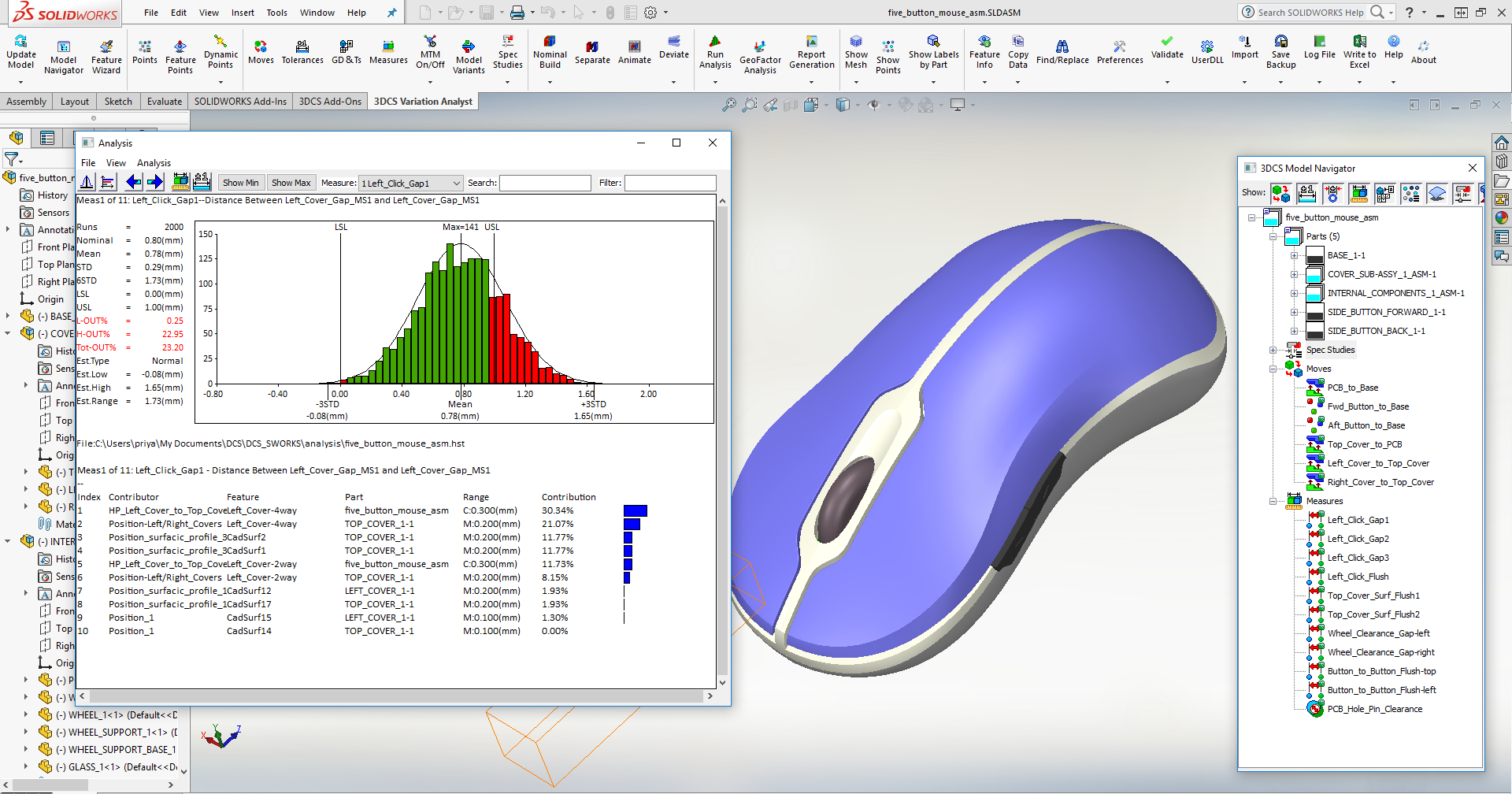 Why Tolerance Analysis is Important
There is a huge cost to not doing things right the first time. There is a cost in design, in manufacturing, in reworking, or just throwing parts away. Downstream, bad perception of your products, and product failures can cause expensive fixes.
"Our business," Donald Jasurda, DCS VP of Sales said, "across everything we do, it is about one thing and that is controlling the cost of quality. I think about this type of analysis as something that is a standard activity in the automotive and aerospace structures industries, and is becoming, evolving in medical device and industrial machinery and electronics packaging. The cost of scrap and rework and the impact it has on profit margins drives this evolution, as in the automotive industry, the margins are very thin and improving product design through simulation is an opportunity to save money."
On the production side of things, professionals have grown accustomed to using statistical methods like SPC for decades. This variation analysis is really nothing different than simulating SPC in a virtual environment using Digital Twins, and doing that work as part of the design process.
"No one would question why you would do a structural analysis on a product; it is just an accepted norm," added Jasurda, "I think we're going to evolve to a point where this type of variation analysis will be seen in the same context as the accepted norm."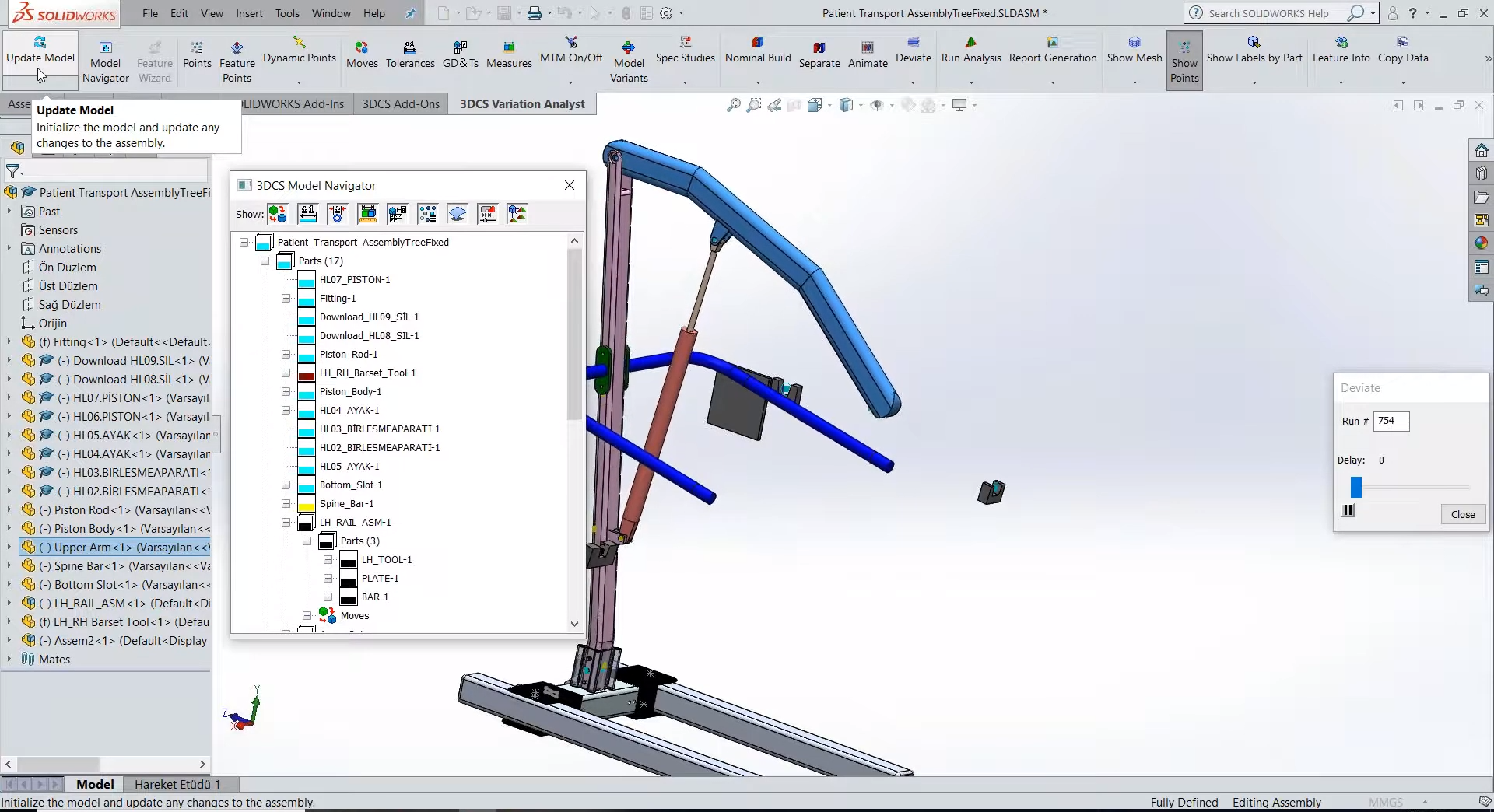 What does 3DCS have that isn't in the market?
3DCS stands apart from other similar products on the market by its ability to simulate manufacturing processes involving tooling and the sequencing of parts. The tools that are in the market right now will do a design study but are not able to simulate the effects of processes like assembly fixtures, weld stations, gaging, and various tooling used to set the gap between two parts and adjust the variation because of manufacturing processes.
Additionally, because 3DCS runs Monte Carlo simulation, it can be used to calculate non-linear analyses, and resultants of the analysis. This includes analyses that are iterative and conditional in nature, such as a latch that can be in multiple positions. 3DCS can model that latch in all of its various positions, calculating how variation will affect its fit and function through the range of motion.
Traditionally, tolerance analysis analyzes rigid parts that don't deform. 3DCS can simulate over-constrained parts that deform, utilizing finite element analysis FEA to incorporate forces, welds, bending, flexing, and thermal.
Beyond just doing linear dimensional measurements, like the distance between two features, or the interference, 3DCS can also measure non-dimensional outputs like the force, the volume, the pressure of something that you want to analyze. Just because it takes dimensions as an input doesn't mean you need to have dimensions as the sole output. 3DCS supports various equations to measure any type of variation that could be inside a system.
Why does integration make a difference?
The number one thing is familiarity for ease of use.
"We've touched on the fact that 3DCS is used to solve complex problems, automotive and aerospace for example," said Donald Jasurda, Vice President of Sales at DCS, "so when you talk about a tool with a fair amount of depth used to solve complex problems, it often becomes difficult to use. In order to mitigate that issue, integration into a familiar CAD environment and interface all reduce complexity and training requirements."
When using a standalone tool, the model is not linked or associated with the PLM or design revisions. When fully integrated into SOLIDWORKS, there is no need to export STEP files or model files and then import them. When the design changes; the model automatically updates. This benefit allows the model to stay up to date while reducing revision control issues.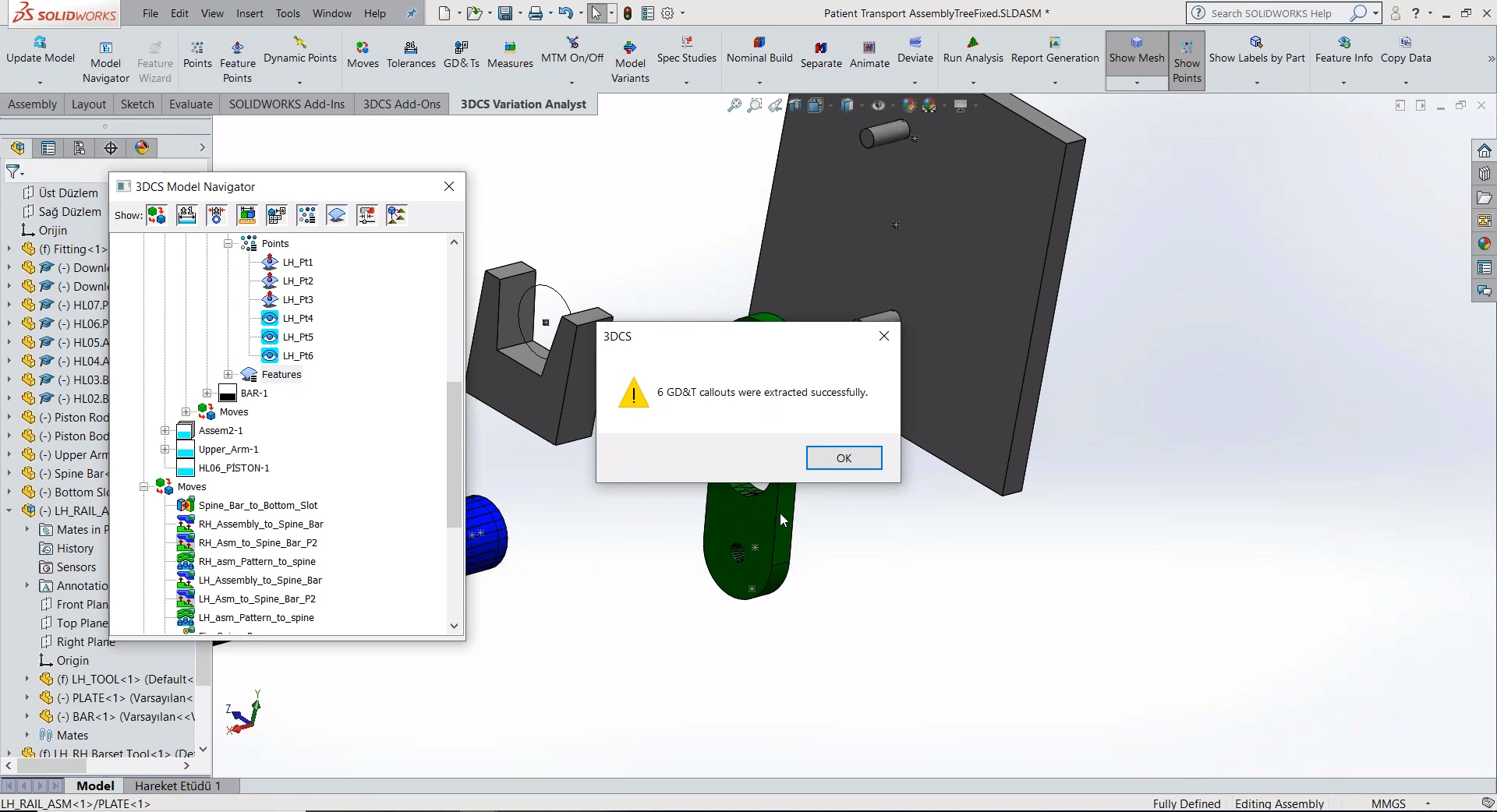 As part of this connection, Model Based Definition, often PMI – Product Manufacturing Information, in the language of GD&T, is now embedded in the CAD and associated with the model features. 3DCS can automatically use MBD to build the model so that there are no errors in inputting the model information. If there is FEA, Finite Element Analysis, data associated, that can also be included. If there are previously created relationships between the features on how they might align, such as assembly constraints, 3DCS can bring those in and help define how the relationship of the features with tolerances might impact the stack-up.
3DCS' ability to build a model without re-authoring data that is in the CAD system, and stay up to date with the design and PLM systems, are big advantages.
What kinds of applications would 3DCS lend itself to?
"Anything that gets assembled or manufactured cannot be manufactured perfectly. Some people think that because we are improving our ability to make manufacture things better that we don't have design or manufacture or variation problems that are impacting us," said Dave Johnson, 3DCS Product Manager at DCS.
3DCS analysis offers great benefits to anything that gets assembled and needs to meet an expectation of quality, whether medical, household, or anything that may be automotive or aerospace that has more than 2 or 3 components. All products have a risk of fault, which may be a failure to assembly, or failure to function properly or when assembled, they fracture or break. Additionally, aesthetically, customers may say 'this looks cheap. It doesn't look like it was built properly.' So anything that is manufactured or has some sort of requirement that has to be met, if made without any analysis or tolerance analysis, you are left unaware of and have no knowledge of the cost that might occur from quality issues and the risk to your customers downstream.
Tolerance Analysis as Part of Digital Transformation
"The first thing," Dave Johnson said, "is Model Based Design or Enterprise, MBD, MBE, using the 3D definition to represent more than just nominal CAD Parts. This considers the GD&T as PMI, which conveys what is the acceptable level of variation on parts in order for them to be able to meet their fit and function requirements. That's the 1st element."
"The second element is the process side, the interconnected aspects of devices, of machines, of measuring equipment, of all the apparatus of how you are going to make those parts that are ultimately going to get put together," added Donald Jasurda. "In our world, we talk about MBD aspect as the conveyance of the design requirement, and then we talk about the connection of data as it relates to process and how those processes support the controlling of variation and the delivery of an acceptable product within its specification with minimal or no scrap or rework, which contribute to the cost of manufacturing."
Process flow of PMI and Simulation leading into inspection
Doing analysis as early in the Product Life Cycle as possible provides the greatest benefits. In some cases, manufacturers run analyses before design models are completed. Analysis should be occurring as decisions are being made about what the product requirements should be in order to meet their design specifications. Then, as the design matures, the analysis model continues to evolve, because now you have to consider the influence of tooling, as most high volume products are manufactured with fixtures or tooling, and those need to be considered as part of the process. Finally as production begins, the model provides additional value by actually linking the data of physical measurements and Statistical Process Control – SPC - to the model for root-cause, problem solving, and correlation.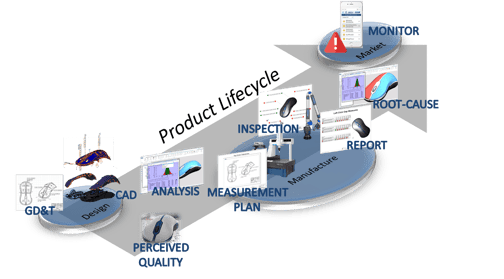 "Most of our clients who are producing products at high volume, they are talking about many types of correlation. Correlation such as between as-designed and as-built, between high-volume, low to medium fidelity measurement, like checking every part for pass/fail criteria, versus doing a very detailed inspection of every 100th part, correlating these two measurement processes to one another," noted Jasurda. "That is very common in automotive for example."
Support for New and Experienced Users
DCS has a series of support methods right on the web like Livechat. Additionally, DCS offers a community site with user forums where people can get support from DCS or other users for applying the products in very specific cases. The Training Lab, with a repository of completed analysis models, provides walkthroughs and modeling methods to learn from and apply. Every month, DCS puts out a technical webinar on a different subject as part of free ongoing training for users. There is also a video channel with hundreds of videos, a weekly blog, along with email and phone support.
"Providing support is critical to this type of analysis, and so that is a very high priority of ours," stated Johnson.
DCS will debut 3DCS Variation Analyst for SOLIDWORKS at 3DEXPERIENCE World 2020 in February at the Music City Center in Nashville, Tenn.