DCS to Unveil New Product 3DCS for SOLIDWORKS - at 3DEXPERIENCE WORLD
by Benjamin Reese, on Feb 6, 2020 10:15:00 AM
The New Version of 3DCS - 3DCS for SOLIDWORKS - Will be Showcased at 3DEXPERIENCE World 2020
3DCS for SOLIDWORKS is available now, and will be demonstrated at booth 218 at 3DEXPERIENCE World 2020 next week, Feb 9 -12, 2020.
DCS is proud to be presenting the new version of 3DCS as 3DEXPERIENCE World 2020, previously SOLIDWORKS World. Demoing the 3DCS for SOLIDWORKS from Booth 218, DCS will be helping attendees understand how tolerance analysis can help discover problems in the digital phase, and by making design changes before any products are made, save a great deal of time and money.
As Dassault Systemes lays out, 3DEXPERIENCE World is the new SOLIDWORKS World.
Building on the legacy of SOLIDWORKS World, 3DEXPERIENCE® World 2020 is an opportunity for designers, engineers, entrepreneurs and business leaders to learn, innovate, collaborate and celebrate together. It's your must-attend source for innovative tools and technologies that will help you shape the world of design, today and tomorrow.

The 3DCS software suite is the standard for advanced tolerance analysis across many industries. Used daily by OEM's in aerospace, automotive, electronics, medical device, and energy sectors, 3DCS gives designers and engineers the tools they need to identify potential build issues and iteratively resolve them, all through 3D digital simulation.
As an integrated tolerance analysis package, 3DCS has historically been fully integrated into Dassault Systemes CATIA V5, and 3DEXPERIENCE platforms, as well as Siemens' NX CAD, and PTC CREO. Now, 3DCS is also available fully integrated into SOLIDWORKS, bringing complex variation analysis to what is quickly becoming the tool for advanced manufacturing.
"SOLIDWORKS is used across many industries and by many manufacturers," said John Mathieson, DCS CEO and President. "It is important to us to make this technology available to those SOLIDWORKS users through an integrated user interface to access the advanced analysis tools 3DCS offers with the fewest barriers possible. As with our other platforms integrated in CATIA V5, 3DEXPERIENCE, CREO, and NX, we understand that the integration of tools into a single platform is the way of the future, and want to prepare our tools to meet that vision."
Demonstrating Tolerance Analysis at Booth 218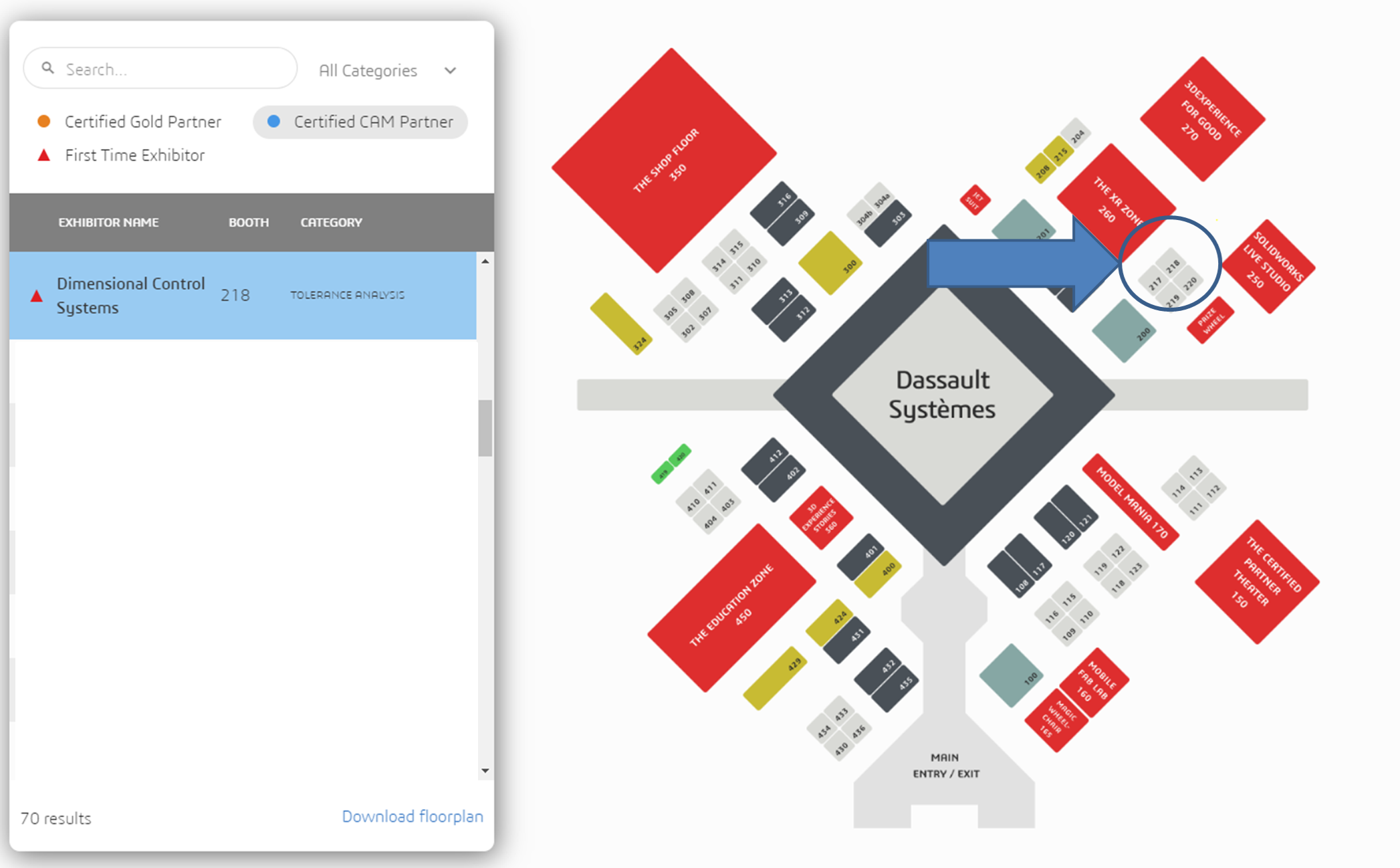 SOLIDWORKS users have long had access to various tolerance stack tools. These tools are easy to use, but unable to tackle difficult, and complex stacks that are influenced by 3D effects. As SOLIDWORKS has become adopted more and more by advanced manufacturers, it is being used to design and analyze complex products that face difficult assembly processes, and complex stack ups that are impossible to capture with Excel or 1D stack tools. 3DCS Variation Analyst is geared specifically to handle these tolerance stacks, and is the perfect fit for users.

3DCS for SOLIDWORKS can include deformation and the variation from flexible material like plastics and aluminum in a dimensional stack-up. Incorporating FEA - Finite Element Analysis - can become key to understanding the total variation in an assembly and support decisions in process and materials. Mechanical products that rely on gears and linkages to perform their function can be captured with mechanical joints and constraints, analyzing the effects of variation through their range of motion. These analyses can be supported with both simulated data and measurement data from a plant, analyzing products using measured data through a Closed Loop approach to determine root cause and problem solve production and assembly issues.

Why Use a CAD Integrated Software?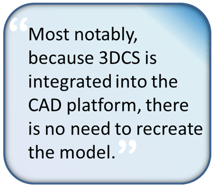 Integrated CAD tools provide a streamlined approach to analysis that improves adoption, training, and implementation. With the ability to open 3DCS for SOLIDWORKS in the CAD platform, and utilize PMI and CAD characteristics, implementation of 3DCS as a tolerance analysis tool becomes easy to learn and apply. With an integrated modeling approach, 3DCS saves the analysis data in the model files, letting users manage their CAD model in leading PLM systems like Teamcenter, Windchill, Enovia and 3DEXPERIENCE while automatically bringing the tolerance analysis data along. This answers the challenge of both file management and version control. Most notably, because 3DCS is integrated into the CAD platform, there is no need to recreate the model.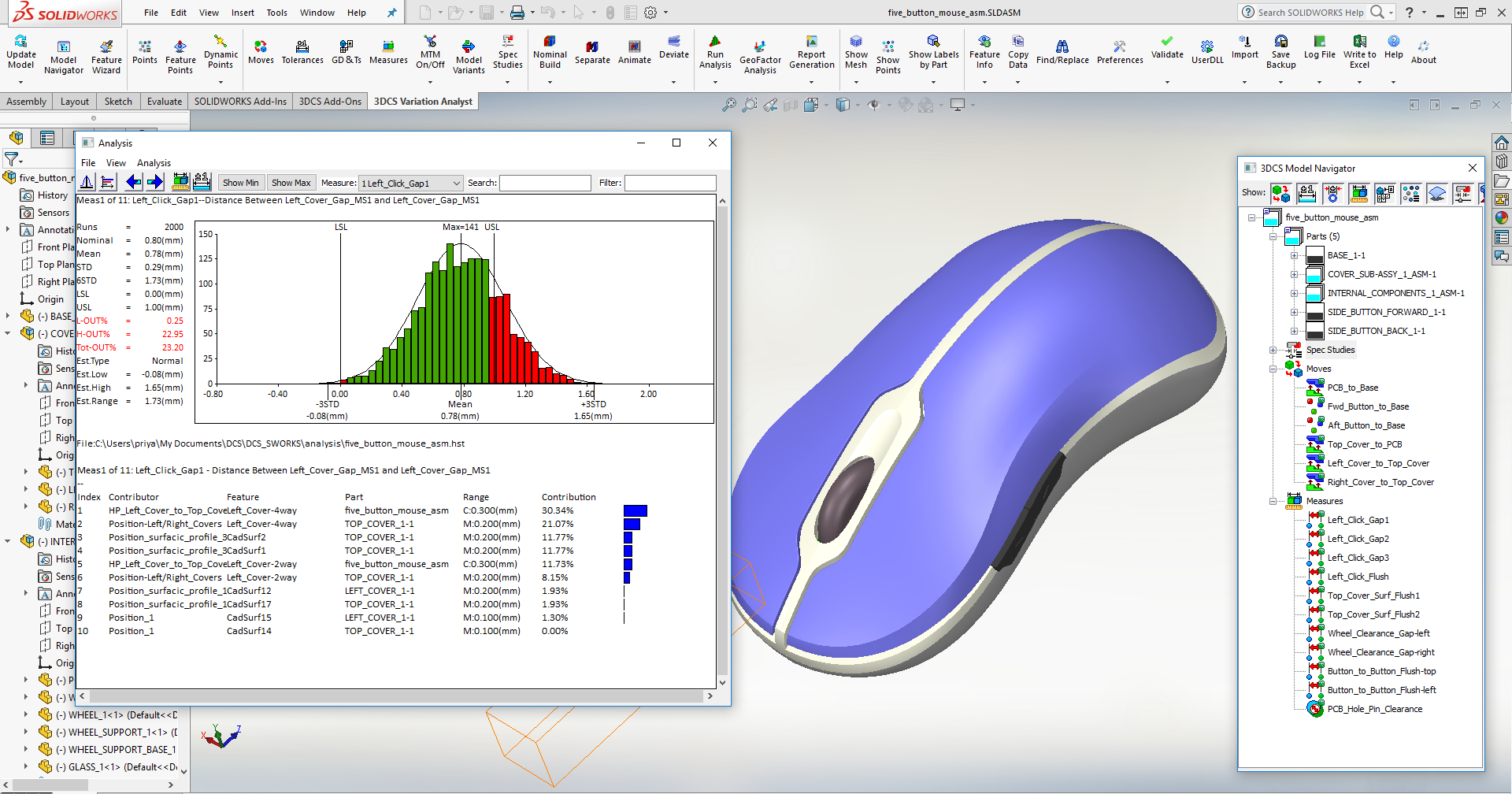 Join DCS at 3DEXPERIENCE World 2020, and stop by our booth to see 3DCS for SOLIDWORKS in action