Impressions and Experiences - Jetpacks, Magic Wheelchairs, High-tech Prosthesis - From the New SOLIDWORKS World - 3DEXPERIENCE World 2020
SOLIDWORKS World was re-branded as 3DEXPERIENCE World for 2020 to bring together the entire Dassault Systemes' community in sharing their experiences, expertise, and upcoming releases.

3DEXPERIENCE World is over now, but we saw some incredible creations and passionate people working hard to improve other's way of life and push the boundaries of current technology.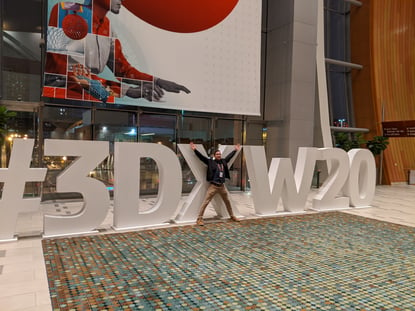 Previously called SOLIDWORKS World, the new face of the event was spearheaded by none other than the Dassault Systemes CEO Bernard Charlès who delivered the total message of Dassault Sytemes, to create new and powerful experiences for its customers and people.
To open the events, Gian Paulo, SOLIDWORKS CEO, welcomed everyone and discussed some of the incredible innovations that SOLIDWORKS is being used to drive. Some of these include new prosthetics that incorporate advanced kinematics and 3D printed features for comfort that can be used in extreme sports, custom build wheelchairs for children to experience their dreams come true, in addition to cool advancements like human mounted jetpacks, 3d printed body costumes (HALO anyone?), and the personal projects of Kickstarter.
Hear what Gian Paulo has to say from SOLIDWORKS Live at the event --> https://live.solidworks.com/
DCS Live on Stream
DCS's own Don Jasurda, VP of Sales, was interviewed on SOLIDWORKS Live to discuss the new release of 3DCS for SOLIDWORKS, the new version of 3DCS tolerance analysis software completely integrated into SOLIDWORKS. See it below ---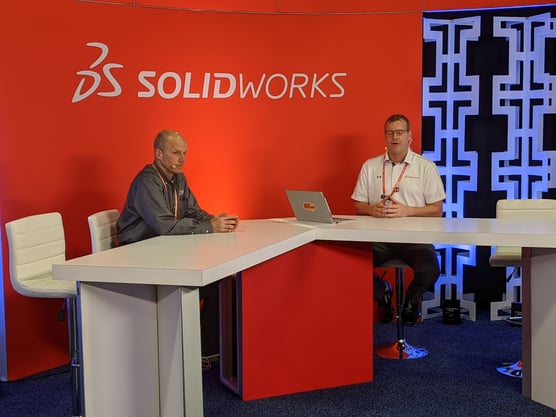 As an integrated tolerance analysis package, 3DCS has historically been fully integrated into Dassault Systemes CATIA V5, and 3DEXPERIENCE platforms, as well as Siemens' NX CAD, and PTC CREO. Now, 3DCS is also available fully integrated into SOLIDWORKS, bringing complex variation analysis to what is quickly becoming the tool for advanced manufacturing.
"SOLIDWORKS is used across many industries and by many manufacturers," said John Mathieson, DCS CEO and President. "It is important to us to make this technology available to those SOLIDWORKS users through an integrated user interface to access the advanced analysis tools 3DCS offers with the fewest barriers possible. As with our other platforms integrated in CATIA V5, 3DEXPERIENCE, CREO, and NX, we understand that the integration of tools into a single platform is the way of the future, and want to prepare our tools to meet that vision."
Show Impressions
SOLIDWORKS World has always brought in clients and companies from a variety of industries. That, I feel, is the real power of SOLIDWORKS. It branches across many more industries than other CAD platforms, and gives a platform to bring together professionals who would not normally meet at industry events to promote cross-industry knowledge share. Sometimes, it is just great to hear all the different experiences and stories. As manufacturing and engineering professionals, everyone has more in common than different, and can relate to trials and tribulations found in any manufacturing environment. Parts not working, last minute engineering and design changes, supplier mishaps, typos that snowball into catastrophes, these are the everyday in manufacturing.
Here is the breakdown of the 2019 SOLIDWORKS World attendee industries: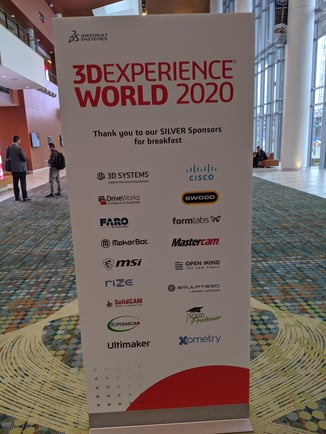 The sponsors of the event also included companies from different industries that aren't in typical manufacturing shows. Dell, one of the major sponsors, was showcasing new hardware designed to run CAD and advanced visualization, giving engineers a true view of their products before production, or for use with SOLIDWORKS and other simulation software to product marketing, movies, and videos.
We at DCS were particularly interested in meeting professionals from High Tech and Life Sciences. As the standard tool in Automotive and Aerospace, 3DCS tolerance analysis software is found throughout the world. It has, however, had slower adoption in medical device and some high-tech electronics fields. This event gave DCS engineers an opportunity to demonstrate the versatility of 3DCS software to professionals in those industries, and answer questions you'd expect engineering and manufacturing professionals to ask; How does it work? Does it solve my problem? How many people need to use it? Can I try it? What are the inputs? Does it need PMI/GD&T?
We had a team on hand and the biggest TV Monitor we could fit in a van to help answer those questions.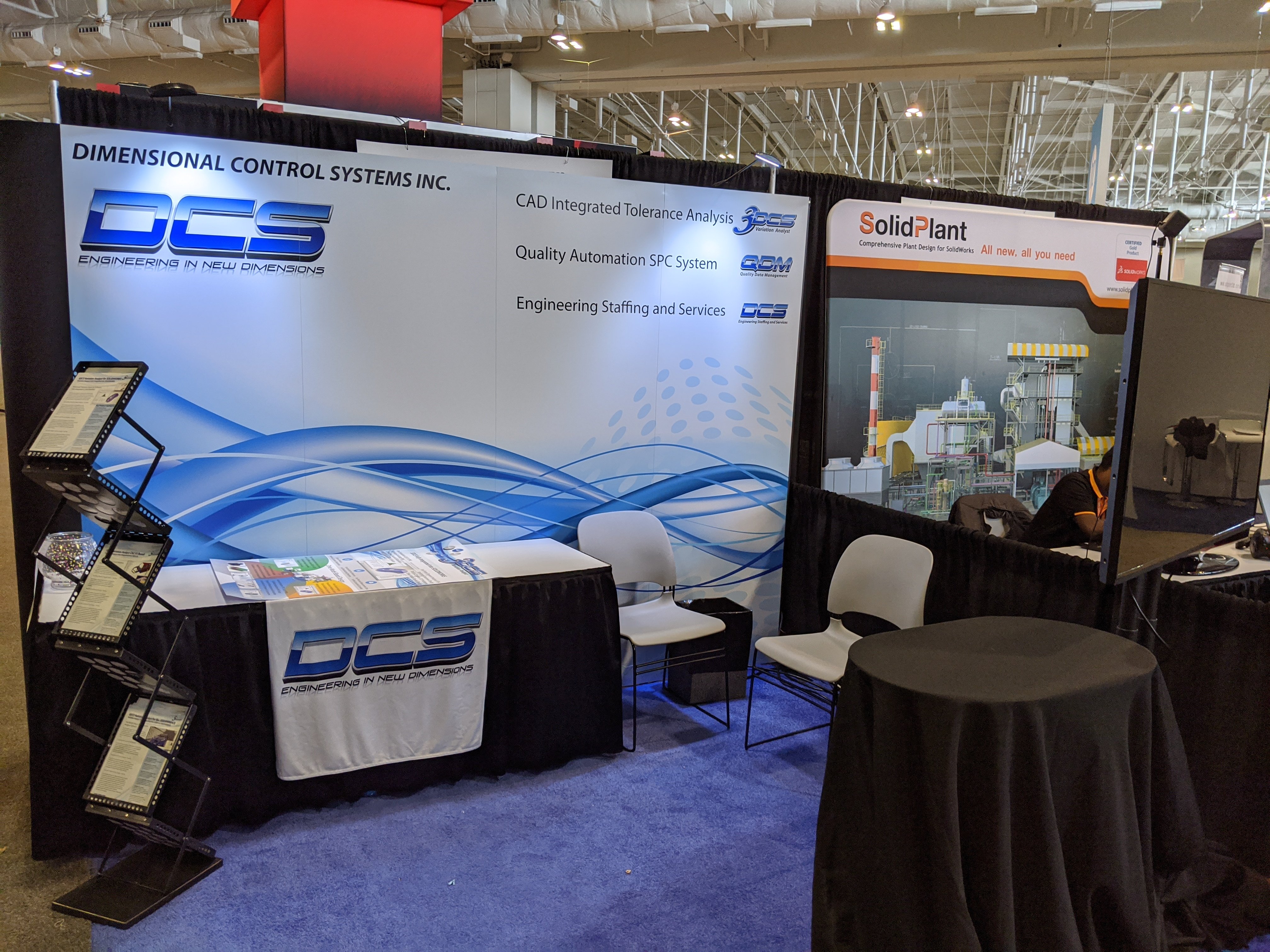 Experiencing the Show - Technology Put to Bettering People's Lives
The common theme throughout 2020's 3DEXPERIENCE World was the use of technology to improve the lives of others. The speakers and showcased companies all brought joy, relief, or new experiences to people using a combination of ingenuity, technology, and vision.
Beginning with one father's vision and one child's dream, Magic Wheelchair turns children into superheroes, princesses, submarines, monsters, and potent machines. To deliver on this mission, this non-profit organization builds epic costumes with no cost to the family by partnering with local build teams.
Two children came with Christine Getman, Executive Director of Magic Wheelchair, to reveal brand new costumes. A Disney Beauty and the Beast costume from the famous Be Our Guest song and scene (with two small daughters, I am intimately familiar with this part), complete with 3d printed characters and sounds, as well as (and I'm a little partial here) a speeder from the new Mandalorian show, including helmet and 40 mph max speed!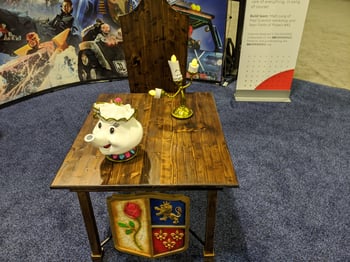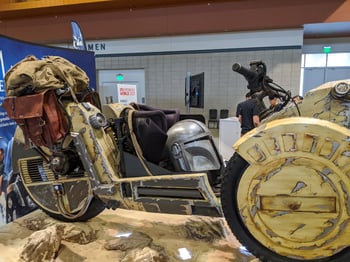 Learn how these incredible costumes come to life with an interview on SOLIDWORKS Live:
We augment the body and mind with a suite of patent pending technology to enable unparalleled human flight.
So, like me, I know you're asking,
How much is a gravity jetpack?
This real-life Iron Man jet suit is now available to buy — but it will cost you $443,000. The

Gravity

Jet Suit has over 1,000 bhp and can reach altitudes of 12,000 feet. The suit weighs 27 kg without fuel and is powered by five mini jet engines.
Gravity Industries, founded in 2017 has grown from its humble beginnings into a multi million dollar organisation whose influence spans the globe. Led by the Founder Richard Browning who dared to ask 'what if'. They now push the boundaries of human portable aerial transportation systems that dare people to dream higher. And higher. And...you get it.
Extreme Prosthetics to Keep You in the Game - BioDapt - https://www.biodaptinc.com/
Instead of consuming him, Mike Schultz chose to innovate to get back to what he loves; motocross. After 4 months he had his first new leg. Months later, he was on the world stage racing and receiving a Silver Medal in motocross.
The Moto Knee and Versa Foot was created by Mike Schultz, a professional snowmobile racer that lost his leg above the knee in 2008, do to an injury while racing. " I wanted to get back to doing the activities I loved (mainly motocross and snowmobile racing) , but I soon found out there was nothing that would really allow me to ride the way I did before my amputation. With my knowledge and experience of fabrication, the experience of tuning suspension on my race equipment and my unwillingness to compromise I set out to create what I needed.

After nearly two years of development I have come up with a knee unit that is versatile enough to handle many different action sports and has helped me win multiple ESPN X Games medals in the adaptive motocross and snocross events. In my many years of racing as a professional I've learned it takes a few key components to be successful; Support from the people around you, a whole lot of Determination and the right Tools for the job," Said Mike Schultz, owner of BioDapt.
For more than just motocross fans, these new prosthetics are designed for people on the go. Veterans, athletes, and active people can take advantage of these legs to do what they love.
Using SOLIDWORKS to continually improve the designs, Mike partners with the Center for Advanced Design team (http://centerforadvanceddesign.com/team/) to bring his visions to life. Applying SOLIDWORKS, 3D printing, and engineering know-how, the team has developed complex prosthetics that allow for extreme activity as well as individualized fine-tuning for custom performance requirements (and personal preferences).
The 3DEXPERIENCE World Playground (show exhibit hall) had many workshops and hands-on experiences. The Helping Hands Workshop brought students together to develop new hand prosthetics for everyday activities. These low-tech prosthetics are important to creating affordable and easily manufacture-able prosthetics for international access and use. With the initial designs being produced to the number of 55,000 hands delivered across the world through non-profits to people in need, the new design presented at 3DEXPERIENCE World demonstrate new ways to look at a single solution.
Learn more about their outreach at: https://odysseyteams.com/team-building-programs/helping-hands/
In Closing - Great Show - New Management - Revving Up for 2021
We were happy to have had the opportunity to go to 3DEXPERIENCE World 2020. With the change in show management and the new branding - which was more than a simple name change - the show essentially 'restarted' in 2020.
Because of this, a number of regular SOLIDWORKS World attendees chose to stay home. DCS is excited to be a sponsor of the 2021 3DEXPERIENCE World, and see the show grow back into the strong community, powerful messages, and engaging learning opportunities that SOLIDWORKS World is known for.
We hope to see you in Nashville for the 2021 3DEXPERIENCE World event!