NEW 3DCS for SOLIDWORKS – CAD Integrated Tolerance Analysis as Featured on Manufacturing Best Practices
by Benjamin Reese, on Jan 22, 2020 10:16:47 AM
3DCS Tolerance Analysis Fully Integrated into SOLIDWORKS
See how the world's most comprehensive tolerance analysis software performs in SOLIDWORKS!
https://www.bestmanufacturingpractices.com/2020/01/new-3dcs-for-solidworks-cad-integrated-tolerance-analysis/
This analysis example (video below) is being performed on a medical patient lift system.
3DCS Variation Analyst for SOLIDWORKS is a fully integrated, scale-able tolerance analysis solution set that simulates product assembly and manufacturing processes, as well as part tolerances, in a 3D stack-up through several types of analysis; Monte Carlo Simulation, sensitivity, equation-based, and worst-case analysis. 3DCS stands apart from other similar products on the market by its ability to simulate manufacturing processes involving tooling and the sequencing of parts.
The tools that are in the market right now will do a design study but are not able to simulate the effects of processes like assembly fixtures, weld stations, gaging, and various tooling used to set the gap between two parts and adjust the variation because of manufacturing processes. Additionally, because 3DCS runs Monte Carlo simulation, it can be used to calculate non-linear analyses, and resultants of the analysis (torque, wind resistance, fuel efficiency, drag).
This includes analyses that are iterative and conditional in nature, such as a latch that can be in multiple positions. 3DCS can model that latch in all of its various positions, calculating how variation will affect its fit and function through the range of motion.
Model Part and Process Variation - How does it work?
3DCS for SOLIDWORKS uses three methods of simulation; Monte Carlo Simulation, High-Low-Mean (Sensitivity analysis) and GeoFactor Analysis. These together highlight the sources of variation as well as potential build issues in the product.
By accurately modeling the build process, users can determine how their process will affect the assembly in addition to their part tolerance stack-up. This together creates a Digital Twin, a virtual prototype, that can be used to make decisions about design changes and tooling while reducing manufacturing variation that causes scrap and rework.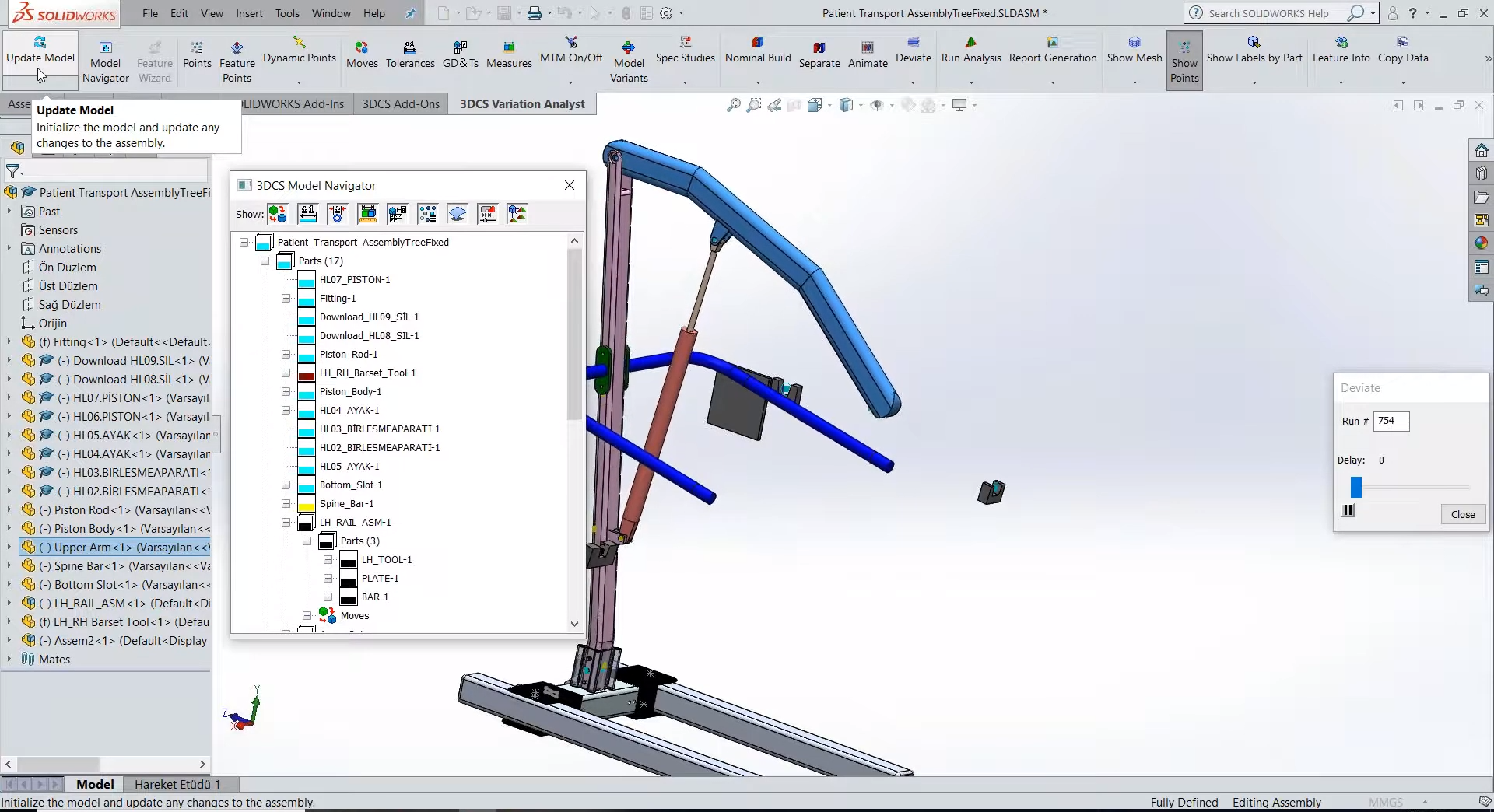 Why Use a CAD Integrated Software?
Integrated CAD tools provide a streamlined approach to analysis that improves adoption, training and process implementation. With the ability to open 3DCS for SOLIDWORKS in the CAD platform, and utilize PMI and CAD characteristics, implementation of 3DCS as a tolerance analysis tool becomes easy to learn and apply. With an integrated modeling approach, 3DCS saves the analysis data in the model files, letting users manage their CAD model in leading PLM systems like Teamcenter, Windchill, Enovia and 3DEXPERIENCE and automatically bring their tolerance analysis along. This answers the challenge of both file management and version control.
See the Full Webinar On-Demand and See How 3DCS Helps Improve Your Build Quality