4 New Features in 3DCS Tolerance Stack Up Simulation Software
by Benjamin Reese, on May 8, 2020 1:57:45 PM
The New Version of 3DCS Variation Analyst Software Contains Many New Features; Here are 4
Learn about the new Table View, Integrated GeoFactor, Visualize Effect, and Model Tree Groups
3DCS Version 7.7 brings with it a host of new features, enhancements, and quality of life improvements. To help users get accustomed to these new updates, DCS provides regular webinars demonstrating the new features and methods in 3DCS tolerance stack up software.
Learn how to use the first four new features in 3DCS: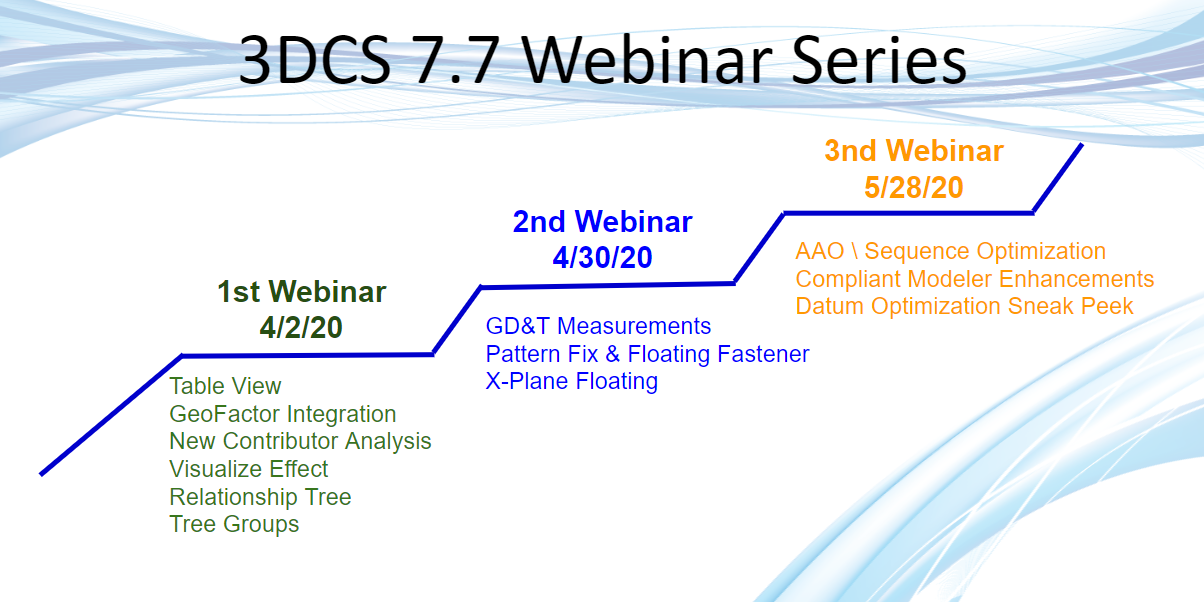 For those who are new to 3DCS software, 3DCS Variation Analyst is a 3D tolerance stack up simulation software that is integrated into your CAD system, or used as a standalone tool with your CAD files. 3DCS allows users to simulate the product build, incorporating all of the input factors such as part tolerances, GD&T, assembly process, tooling, fixtures, multiple stage builds, manufacturing processes, and environmental factors.
Combining these inputs with both Monte Carlo simulation, and equation based Worst Case provides a deep insight into your product and the risk of failure if you go to launch. By interrogating the model, and completing iterative design changes, users can determine the source of possible built issues and reduce their risk of occurrence. All this together leads to faster time to market, reduced scrap and rework, and lower risk of warranty claims, saving manufacturers millions in lowered quality control costs.
You can join the current 2020 webinar series to learn more about 3DCS applications and what's new in Version 7.7 here:

In this blog, I've taken the clips from the first version 7.7 webinar as well as information from the DCS Help Manual that can be found when the software is installed, or at the DCS Community. These first four features focus on quality of life improvements, to make modeling and analysis easier to manage, navigate, and use for quality and design decision making.
Let's go through these first four new features.
Tolerance Stack Up Simulation - Table View
Why this is helpful -- Easy to view and navigate tolerance simulation data in one window
Click Here to Learn More and See How to Use This New Feature
Visualize Effect - Isolate Tolerance Contribution
Why this is helpful -- Show the effect of a single tolerance on the model to demonstrate it's GeoFactor or overall variation without other influences. This is a very helpful demonstration tool for showing your team or managers problematic tolerances and inputs.
Click Here to Learn More and See How to Use This New Feature
Integrated GeoFactor -- Part and Tolerance Relationship Analysis
Why this is helpful -- Understand how the relationship between parts in an assembly magnify your tolerances without the need for an add-on module.
Click Here to Learn More and See How to Use This New Feature
Model Tree Groups - Group Features and Inputs in Your Tree
Why this is helpful -- Navigate large models easily by grouping features in your tree together.
Click Here to Learn More and See How to Use This New Feature
Join DCS to Learn How to Use All the New Features in the New Version 7.7