Manufacturers From Across the Globe Share Their Successes with 3DCS and Tolerance Analysis
Day 2 of the DCS Conference featured a variety of manufacturers and engineers sharing their experiences and successes with tolerance analysis and QDM WEB and how they have benefited as a result. Here are the highlights from the day:

Looking for the Highlights from Day 1? Click Here
Looking for Day 3 - Tackling Tough Tolerance Analysis Scenarios
3DCS High Performance Computing
D.J. Gray, Product Engineering Specialist from Magna Seating and Mathew Shaxted, Founder and President of Parallel Works, teamed up with Eric Kaphengst, DCS Programmer and the team at DCS to create a new solution for long model analysis and simulation times.


Parallel Works offers Cloud based computing farms. These are groups of computers off-site that can be utilized to run high demand processes much faster than using local machines. This offers two great benefits:
1. Incredibly fast process speeds - time savings of 50, 60 or even 70%!
2. Off-site computing means your machine is free to allow you to continue working on your projects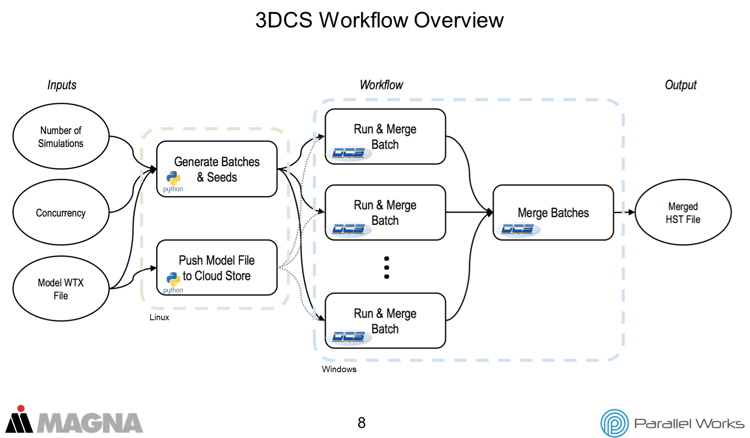 The workflow gives users a lot of control over how many machines they want to utilize, how many simulations and the hours they want to use. Generally, a more complex simulation would demand a larger amount of machines dedicated to it in order to return the same kinds of results as a more simplified simulation.
What this promises for the future for 3DCS users is the ability to send out simulation and analysis runs that might take days, and get your results back in hours, all the while keeping your own machines free.
Keep your eyes out for an upcoming webinar going into more details on this new offering.
The Company-Wide Implementation of Global Measurement Data into a Quality Improvement Maturation Cycle and the Journey to World Class Manufacturing
Jon Tongue and Paul Gilbert from Jaguar Land Rover (JLR) delivered the next presentation. This showcased a powerful combination of simulation tools with manufacturing QMS software to correlate designs with manufacturing results. This has provided powerful returns to JLR, who has truly pioneered this process.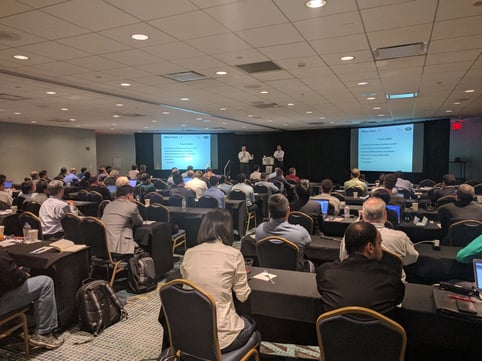 This Closed Loop process of continual improvement uses 3DCS (in this case 3DCS for the 3DEXPERIENCE (CATIA V6)) and a QDM WEB System to simulate, create measurement plans, measure and then solve issues both before and during production.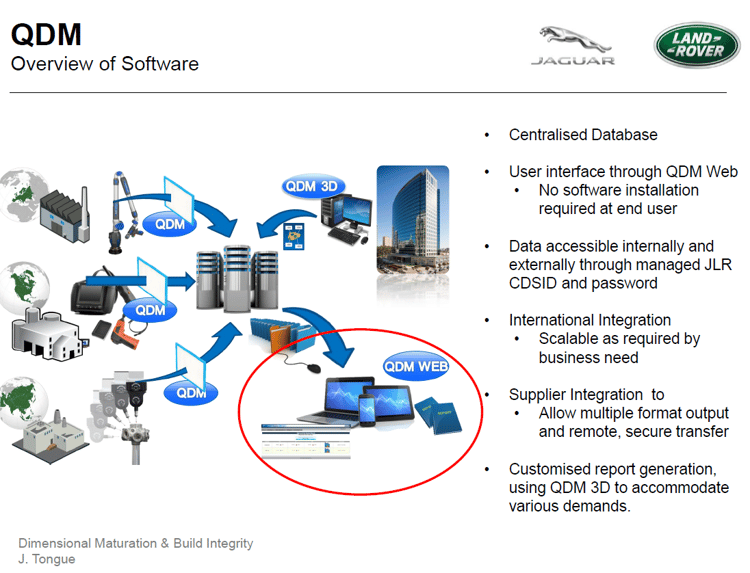 Utilizing advanced tools like QDM PDA - an advanced SPC analysis package - and 3DCS Variation Analyst, JLR is using DVA to accomplish truly impressive feats.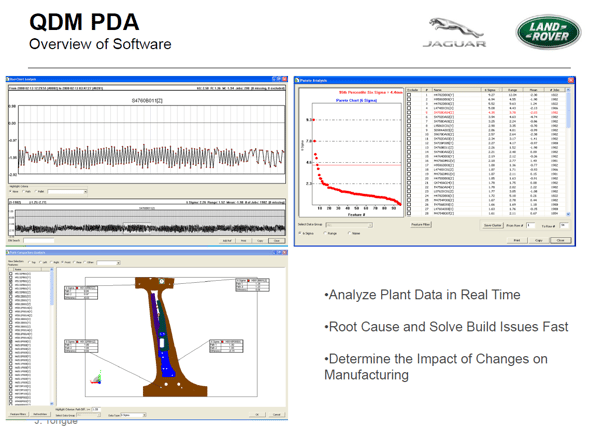 Variation Analysis of Hydraulic Powertrain Mounts
As long time users of 3DCS, Art Melander and Surendra Tangudu, Senior Variation Analysis Engineers at General Motors, demonstrated some modeling methods within 3DCS combining different analytical tools to provide the results and analysis they needed to handle complex powertrain scenarios.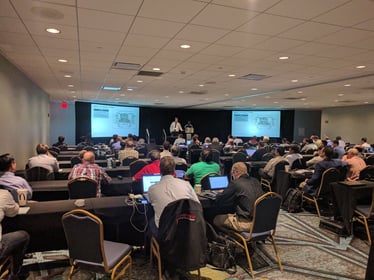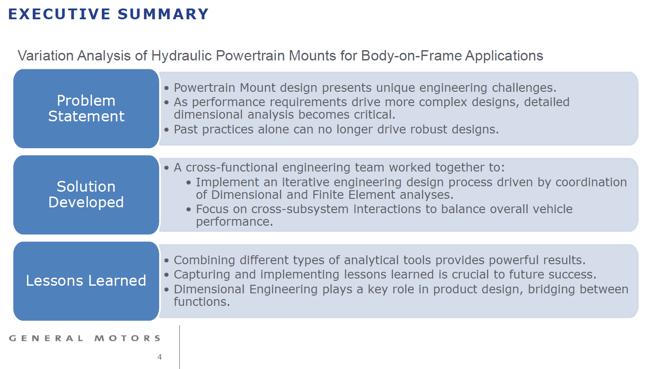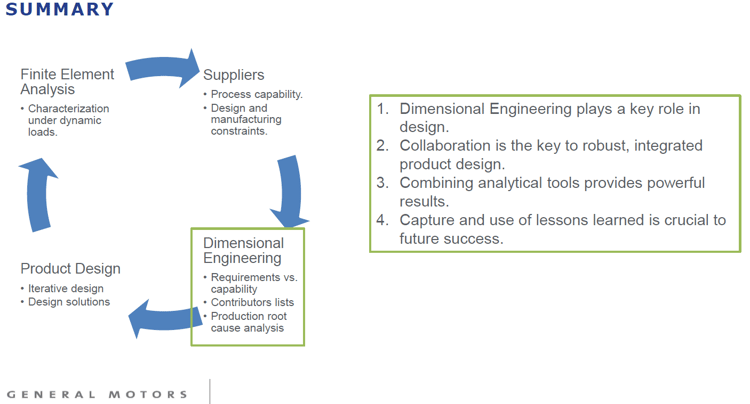 Use of 3DCS in Early Development Phase - Focus on Hella Tolerance Generator
Vladimir Till, DImensional Engineer from Hella, followed up by showing how his team developed a tool with Visual Basic in Excel to automate the creation of tolerances using ISO Standards in early design phases. This was key to his team's designs, as they could then begin modeling and running simulations before they had received the part drawings and actual design tolerances.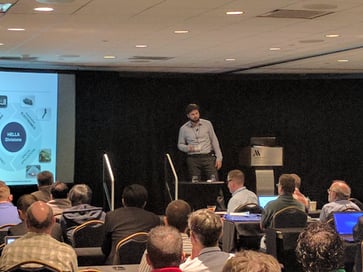 Vladimir's team worked on a number of different advanced headlamp models, including the one for the Mercedes-Benz E-Class using 84 individual LED lights:
The tool developed by Valdimir and his team allows for push-button export of created points, and then with a few chosen options, the automatic creation of ISO Standard tolerances which can then be imported back into 3DCS. This saved his team many hours of manual inputs and reduced the chances for human error.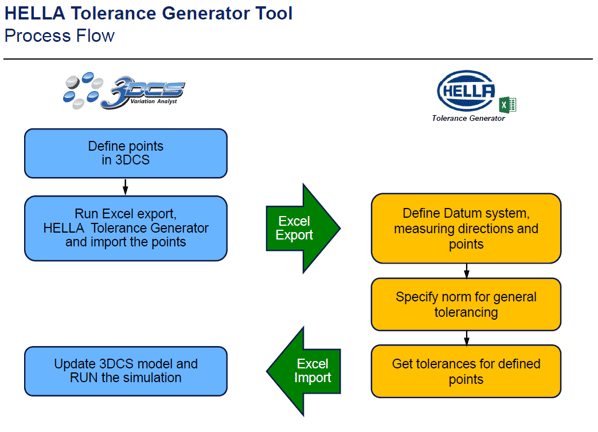 This highlights the versatility of 3DCS, as using methods like Excel Create, users can customize and connect 3DCS to meet their process and user needs, instead of having to change to fit 3DCS. This is a powerful benefit that is important to DCS, as no two companies do things exactly the same, and a one-size-fits all solution is not practical or realistic.
DCS sees this as the future of Process Capability Database as well. As the PCDB allows users to tie tolerances to a database that can be easily updated, these kinds of atuo-create look up tables could be developed and put within the database to give engineers the ability to begin running analyses earlier in the design phase, and then quickly update their models once the designs become available.
QDM Cloud - Using Cloud Based SPC Systems to Incorporate Plant Data
Delivered by Thagu Vivek, QDM Product Manager, and Chris Peuterbaugh, DCS Project Coordinater, this presentation showcased the new version of QDM WEB - entirely on the cloud.
This removes the normally time consuming setup of putting the system on an internal server and connecting all of the modules. For large companies, this may still be the answer to put the system behind a firewall, but for many, the ability to quickly customize and connect to a QDM System through the cloud, and take advantage of Software as a Service to spread the cost out, can make a once daunting proposition of incorporating SPC or a QMS System now a simple one.
The QDM System is a central server and attached software modules that create a system to collect, standardize and communicate measurement data across your organization. As a beneift to using QDM with 3DCS, users can create measurement plans from their CAD models and provide them through the QDM System along with Ppap, FAIR and other compliance documents. In this way, QDM rapidly becomes both a communication tool as well as a means of gaining manufacturing visibility across the organization.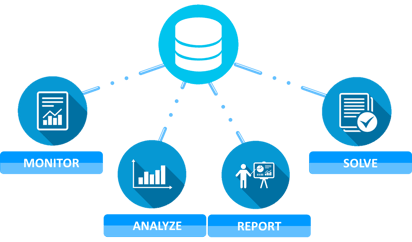 With QDM Cloud, this can be rapidly setup and deployed, allowing companies to gain access to these benefits as they are needed, scaling the system as demand increases.
3DCS Tolerance Analysis: Magnet Design for Elekta MR-LINAC - Case Study
"3DCS saves lives."
A lofty statement, but perhaps, in the right hands, it really can contribute to saving lives.
Avery Montembeault, Dimensional Engineer at Philips Medical, demonstrated how the use of 3DCS to design tools can help to save lives.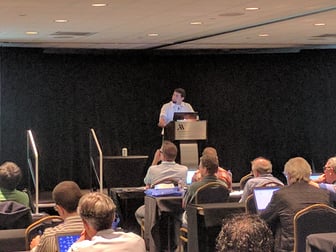 This was done through the use of 3DCS in the design (DFMA, Design for Manufacture and Assembly) of the magnet system of the Elekta MR-LINAC, a combination MRI - Magnetic Resonance Imaging device and a unique radiation projector that allows doctors to view the internal structures of patients, and then project radiation onto the specific cancer sites within the patient's body.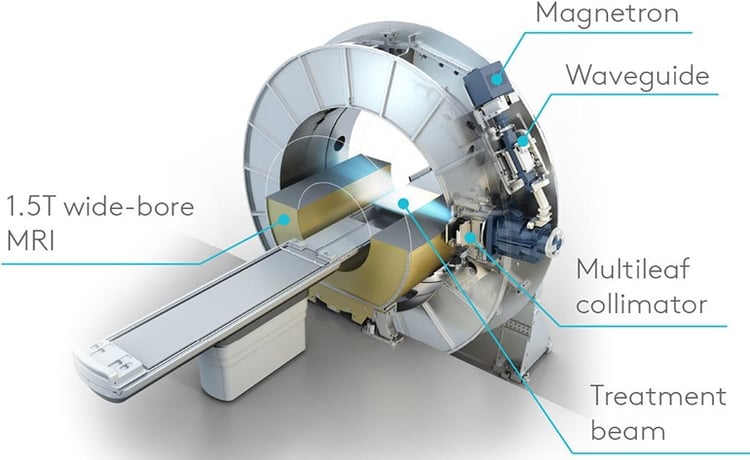 Image courtesy of https://www.medgadget.com
This reduces the collateral damage most often associated with radiation therapy, as well as allowing a larger administration of radiation to the cancer zone to destroy the greatest amount of cancer with the least amount of damage to the patient.
Learn more about this life-saving device
Using Catia Parameters to Build 3DCS Assembly Simulation Models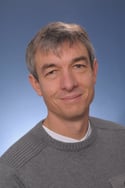 Axel Siewert, Dimensional Management Specialist at Airbus, joined us from France to discuss how Airbus is creating parameters for their models to allow for faster modeling and therefore, quicker answers to dimensional scenarios.
This is needed as Airbus expands their manufacturing and decreases their development cycles to meet the growing global demand for their products.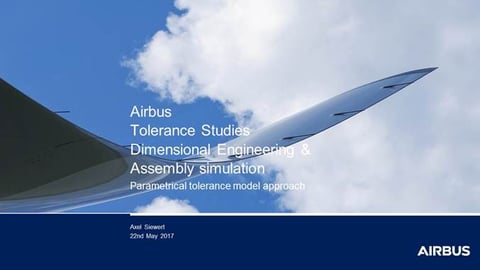 Airbus' Global Market Forecast for 2016-2035 offers a forward-looking view of the air transport sector's evolution –this anticipates that air traffic will grow at 4.5 per cent annually, requiring some 33,000 new passenger and dedicated freighter aircraft.
To support this growth, delivery rates planned to reach new heights, assembly processes will change and new assembly lines will be build.
In order to deliver right the first day processes and assembly strategies need to be validated in advance prior physical creation.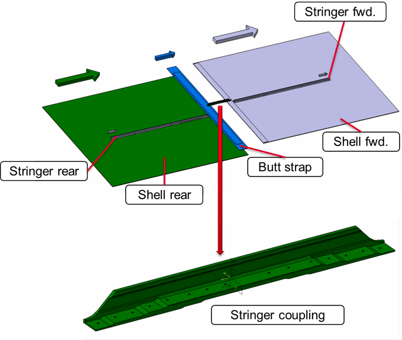 In shortening development cycles and condensed project plans the dimensional management needs to deliver answers fast and efficient.
The parameterization of the assembly simulation models is one opportunity to reach this target in order to judge different geometrical scenario and input tolerances.
Tolerance Analysis vs. Variation Accumulation: Differences and Modeling Implications
Tave Hass, Dimensional Engineer working at General Motors, presented an academic piece on the differences between modeled tolerances and actual manufacturing variation.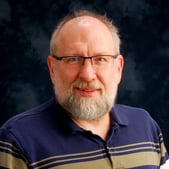 His take on tolerance analysis follows that the software is most often used to model specifications, which include a number of scenarios that are impossible to actually occur in production. Because of this, the modeled ranges are overly expanded, and are often overmodeled. By accounting more specifically for the process and actual variation, tolerances can be held tighter and create better products with fewer defects without adversely affecting cost.
As he showed in his presentation:
Tolerance: Determined by SPECIFICATION ONLY.
- Changing tolerances cannot change variation.
- Increasing tolerance does NOT innately save money.
Variation: Determined by PROCESS ONLY.
- Variation does not care what tolerance is.
- We don't need to protect ourselves from what won't happen.
Tolerance Analysis software attempts to correct for this with mean shift, and different settings, but it is often in the GD&T before simulation or modeling that the difference exists. This further highlights the need for GD&T training in universities and schools to develop the skills for using tools like 3DCS to their greatest effect.
3DCS: Full Vehicle Modeling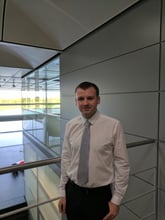 Laurence Allmark, Senior New Product Quality Engineer at McLaren Automotive Ltd, is no stranger the concept of quality. McLaren, the name itself, is synonomous with automotive quality. As a company, they hand build each vehicle to be more than an automobile, but also a work of art. It is no wonder then that dimensional management is integral to their process.
Demonstrating both their quality setup and design process, Laurence Allmark took us through the design and development of their vehicles using 3DCS tolerance analysis software. As a relatively small company compared to many larger automotive OEM's, McLaren engineers handle a array of roles and responsibilities, managing multiple projects that oftentimes overlap.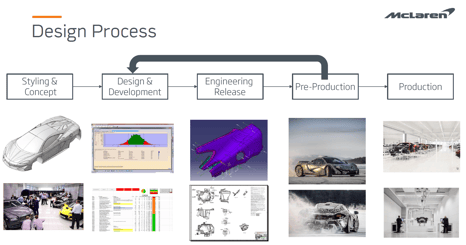 Through iterative designs and communication with key stakeholders, Laurence explained how quality objectives are at first determined and then met. It was exciting to see how the entire vehicle was modeled in 3DCS, including fixtures and assembly process, to provide these results and really showed how advanced the dimensional team at McLaren is. Seeing how far they have come in 2017 only shows how far they will go in the future.
Wrapping Up the Day With a Riverboat
After the final session, the attendees made their way down the Detroit Riverwalk to board the Detroit Princess Riverboat for a leasurely dinner cruise. This gave everyone a chance to discuss the days events, ask follow up questions, and learn from fellow engineering professionals.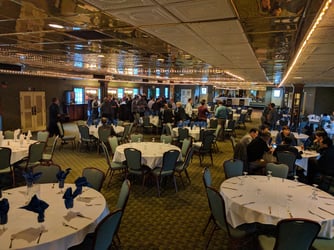 It was also a good time.
Interested in seeing more presentation details? Contact DCS to learn more
Keep an eye out for the last days summary tomorrow!
Looking for the Highlights from Day 1? Click Here
Looking for Day 3 - Tackling Tough Tolerance Analysis Scenarios