The DCS Global Technology Conference Day 4 Event Begins This Week and Ends Next Week - May 27th and June 3rd
What is Day 4?
Day 4 is a series 6 new presentations, over a 2 day extension of the DCS Global Technology Conference. This expands the event to 35 presentations, with even more on-demand only, providing a truly massive amount of value.
Each of the Day 4 Events consist of 3 back-to-back presentations held in the late morning EST using the same Gotowebinar link to join. This makes it easy to log on and attend the sessions you want. Each session will begin on the hour, so if you only want to watch a single session, you can log in at its start time to catch just what you're interesting in seeing. After each day concludes, you'll be able to watch the presentations on-demand in the DCS GTC Event Site (registrants from May 11-13 event and new event registrants only).
DCS GTC DAY 4 EVENT
The Day 4 event for the DCS GTC event will cover two days:
Thursday May 27th and Thursday June 3rd.
MAY 27 - Open to Everyone - This three presentation event will showcase:
1. Design to Engineering Variation Modeling - Understanding DCS Scalable Solution with 3DCS Design Variation Modeler Passing Models to 3DCS Variation Analyst
- Gary Bell, Sr. Dimensional Engineer, Spencer Strouse, Sr. Dimensional Engineer
Learn how Designers can take advantage of the new 3DCS Design Variation Modeler software to speed up their tolerance stacks, leaving Excel stacks in the past. These fast, 3D tolerance stacks are great for basic parts and models, but when a more complex element shows up, see how the Designer can 'prep' the model and then pass it to an engineer with 3DCS Variation Analyst to tackle the difficult challenges and component interfaces.
2. 3DCS FEA Compliant Modeler - Getting Started with Adding Finite Element Analysis (Gravity, Force, Thermal) to Your Tolerance Stack Simulation
- Maria Harangus, Sr. DCS Dimensional Engineer
Interested in bringing gravity drop, thermal expansion, and force effects (bolting, clamping, welding, over-constrained parts, spring back, stretch) into your variation simulation? This presentation walks through the basic modeling steps for a new user of 3DCS FEA Compliant Modeler to get started with combined Finite Element Analysis and 3D Tolerance Stack Simulation. This video also provides a great resource to have on hand to refer back to when you need to add new compliant meshes to your models, or modify existing ones.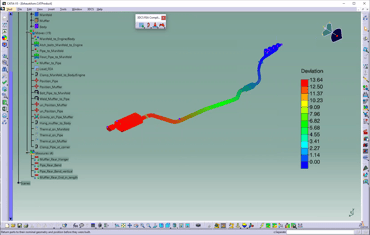 3. DVM - Getting to Know the 3DCS Tool Streamlined for Designers to Replace Excel Stacks
- Ethan Vassallo, DCS Variation Analyst, Spencer Strouse, Sr. Dimensional Engineer
Upgrade from your Excel Tolerance Stacks with 3DCS DVM, an easy to use 3D tolerance analysis tool fully integrated into your CAD platform. Get real answers, save valuable time, and expand quality throughout your organization. See DVM first hand with this walk through of how the tool works; inputs and outputs.
Click to Register for May 27th DAY4 Event
June 3rd - Available to All DCS GTC Registrants (Aren't registered? Reach out to us!)
1. Implementation of Design to Manufacturing Quality at Stellantis (previously FCA)
- Christopher Slon, Technical Fellow, Dimensional Quality - Stellantis
Christopher Slon has overseen the expansion of 3DCS and QDM at Stellantis, working them into the Stellantis quality process in order to support design, launch, and production needs. Learn how Stellantis implemented these tools as part of their process, how they are benefiting, and very real impact it has on improving quality and reducing costs.
2. Using the Digital Twin to Integrated Manufacturing Data in Design with 3 Examples from Design, Launch, and Production
- Amandeep Jhajj, Technical Specialist- Dimensional Quality at Stellantis (formerly FCA Fiat Chrysler Automobiles)
Amandeep Jhajj has been instrumental in apply 3DCS tools to identifying, and resolving possible production issues by balancing risk, analysis, cost, and inspection in order to produce a product of the highest quality. Learn how Amandeep Jhajj applies 3DCS as part of the Stellantis process through the use of 3 example projects; one in design, one in launch, and one in production.
3. Advanced Modeling with 3DCS FEA Compliant Modeler - Taking Your Models Further
- Maria Harangus, Sr. DCS Dimensional Engineer
Expanding on the May 27th presentation, Maria Harangus shows 3 models and how Finite Element Analysis can be incorporated into them to improve analysis accuracy: Aircraft Skin to Stringer, Automotive Exhaust System, Automotive Fender. See how the material properties cause these products to warp, twist, stretch, and flex when they are attached, in use, and assembled.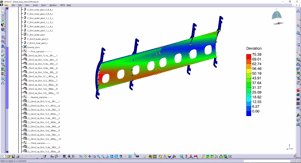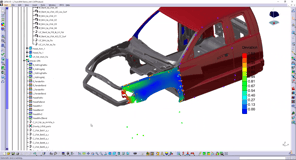 Logging Into the Event [NEW!]
To log in, you have two options:
Register for the Event on Gotowebinar, and join the webinar directly. Each day has only a single webinar to join.
Go to the DCS GTC Event Site and use the JOIN LIVE SESSION link to join the webinar.
On-Demand Presentations
All of Day 4's presentations will be available on-demand after their live session day ends. Simply go to the presentation page, and scroll down the page to the short form. Add your name, and you'll see the video embedded right on the page or click the link to view it on Youtube or Gotowebinar Library (China friendly).
Day 4 Agenda and Events
Thursday, May 27th Track - Scalable Solution
9 AM EST
-
Design to Engineering Variation Modeling - Understanding DCS Scalable Solution with 3DCS Design Variation Modeler Passing Models to 3DCS Variation Analyst
- Gary Bell, Sr. Dimensional Engineer, Spencer Strouse, Sr. Dimensional Engineer
10 AM EST
- 3
DCS FEA Compliant Modeler - Getting Started with Adding Finite Element Analysis (Gravity, Force, Thermal) to Your Tolerance Stack Simulation
- Maria Harangus, Sr. DCS Dimensional Engineer
11 am EST
-
DVM - Getting to Know the 3DCS Tool Streamlined for Designers to Replace Excel Stacks
- Ehtan Vassallo, DCS Variation Analyst, and Spencer Strouse, Sr. Dimensional Engineer
Thursday, June 3rd Track - Implementing DCS Quality Intelligence
9 am EST
-
Implementation of Design to Manufacturing Quality at Stellantis (formerly FCA)
- Christopher Slon, Technical Fellow, Dimensional Quality - Stellantis
10 am EST
-
Using the Digital Twin to Integrated Manufacturing Data in Design with 3 Examples from Design, Launch, and Production
- Amandeep Jhajj, Technical Specialist- Dimensional Quality - Stellantis
11 am EST
-
Advanced Modeling with 3DCS FEA Compliant Modeler - Taking Your Models Further
- Maria Harangus, Sr. DCS Dimensional Engineer
Register for the DCS GTC Event to Get Access to All Previous Presentations, and the June 3rd Event