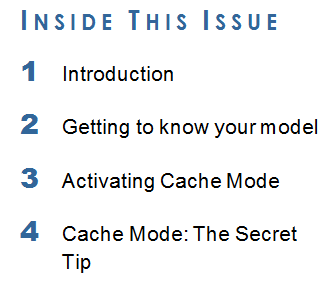 3DCS, CATIA V5, Cache Mode and You -

A How To Guide on Using Cache Mode in CATIA V5
This Tips and Tactics article walks through the use and value of using the Cache Mode tool in CATIA V5. This tool greatly increases the speed at which modelers can work on large models.
Introduction
3DCS and CATIA V5, together, offer great tools for a robust user experience. This article focuses on one of those tools, called Cache Mode. Cache Mode in CATIA V5 offers flexibility when building a Tolerance Model in 3DCS. When Cache Mode is activated, large amounts of data are stored in a local folder, reducing the overall size of an assembly. For 3DCS users, this means building and running Simulations of an entire vehicle faster.