From a simple trend to a must-have industrial requirement
In the era of Manufacturing 4.0 and digital transformation, the manufacturing industry is undergoing a paradigm shift.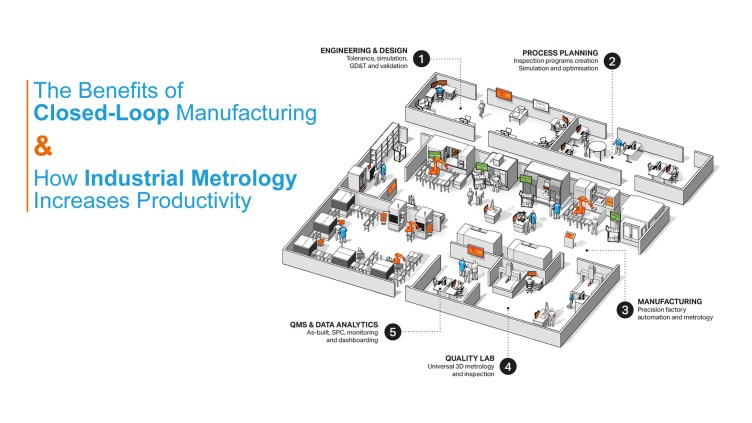 One of the most promising advancements is closed-loop manufacturing, helped by the digital revolution that has paved the way for transformative advancements in the manufacturing industry. Closed-loop manufacturing stands out as a groundbreaking concept that maximizes productivity and quality by seamlessly integrating feedback metrology data by interconnecting engineering and manufacturing together. In this LinkedIn blog post, I would like to explore the advantages of closed-loop manufacturing, highlighting Sandvik's instrumental role in driving the industry forward with its expertise in tooling, digitalization, and cutting-edge solutions. No one else is better positioned than Sandvik's new digital manufacturing approach to help you in your digital transformation journey.
Closed-loop manufacturing: revolutionizing production efficiency
Closed-loop manufacturing revolves around the continuous feedback loop between the manufacturing process and metrology data. By collecting and analyzing real-time data from various stages of production, you can gain invaluable insights that allow you to fine-tune your processes for optimal efficiency. This integration of feedback data empowers your team to identify and resolve issues immediately, resulting in enhanced productivity and reduced downtime. Your Industrial Metrology solutions, when well interconnected become the eyes and ears of what is happening on your production floor. Then, it becomes easy to define an automated process that can take real-time to improve your manufacturing throughput.
Sandvik's leadership in closed-loop manufacturing
As a frontrunner in the manufacturing industry, Sandvik is pivotal in enabling closed-loop manufacturing. With a deep understanding of tool expertise, manufacturing processes, and digitalization, Sandvik provides comprehensive solutions to help businesses leverage the power of metrology data. Through their cutting-edge digital offering ranging from CAM to Metrology, Sandvik is ready to help the Manufacturing Industry to collect valuable data, analyze in real-time, and utilize pertinent data feedback effectively. The utilization of feedback metrology data offers substantial benefits to engineers and by leveraging this data, manufacturers can identify variations, deviations, and potential quality issues in real-time. As a result, this empowers you to make informed decisions, adjust parameters, and optimize processes for improved product quality. Additionally, the ability to analyze data trends over time allows you to implement predictive maintenance strategies, minimizing machine downtime, and maximizing productivity.
Making it happen is as simple as making sense of all this data: this mostly depends upon (1) having pertinent data-set, (2) extracting the meaning out of it and (3) interconnecting all of this knowledge together with your digital/manufacturing flow, not forgetting some possible automation.
Working towards a more efficient and sustainable manufacturing world
This synergy from Sandvik's technological solutions, an expert in manufacturing processes for more than 160 years, delivers a set of simple solutions you can build upon to provide continuous improvement and optimization to your shop floor.
"...closed loop manufacturing is a game-changer for the manufacturing industry. You cannot ignore it any longer."
With its integration of feedback metrology data, closed-loop manufacturing is a game-changer for the manufacturing industry. You cannot ignore it any longer. Sandvik's commitment to innovation and expertise in connecting manufacturing and digitalization solutions is critical in this transformative journey. By embracing closed-loop manufacturing and leveraging Sandvik's solutions in CAM, Industrial Metrology, Automation, and Engineering/SPC, you can easily unlock new levels of productivity and quality.
---
I invite you to discover more about our suite of Industrial Metrology solutions from the Sandvik Manufacturing Solutions website where there is a more detailed article on how our interconnected solutions can help you out too in this journey:
---
If you want to learn more about Sandvik Industrial Metrology Solutions and its companies, pick the one you are most interested in. It is probably already integrated with your machines and also fully compatible together with your existing digital flow:
I finally invite you to browse through the Sandvik Manufacturing Solutions website. It will give you an additional depth into our manufacturing and digital integrations where big data can be harnessed and rapidly analyzed with a touch of AI moving you closer to "smart manufacturing". This is what Sandvik industrial manufacturing expertise and its digital solutions bring to you daily, in every workshops. Not only are we still quite ahead in this journey but we are also a solid industrial player who has been using this approach and our tools for many years already.
---
You have read through this and this has sparked some interest? if you have any questions or thoughts about smart manufacturing please leave a comment or simply connect to contact me directly via PM.