The New DCS Community - FAQ's and Discussion on Tolerance Analysis and SPC
by Benjamin Reese, on Jan 23, 2018 10:41:09 AM

The New DCS Community Brings Customers and Clients a Forum for Questions, Answers and Information on Tolerance Analysis and SPC
The New DCS Community houses an extensive FAQ, with clients able to post questions to be answered by DCS technical experts and DCS Software partners and users.
All good things must come to an end, and so, with a heavy heart, we say farewell to DCS's old community site. It lasted more than 10 years, but was beginning to show its age. The New Community has been updated with the questions and answers from the old community, as well as the DE Focus articles and webinar recordings, but brings with it a number of new features that will make using it, and more importantly, keeping up with it, easier.

Registration is free, and once your account is activated, you will have access to all the content on the Community.
Subscribe to Posts and Forums
When a user of the community posts a question, they are automatically subscribed to that post. This means that when you ask a question, you'll be notified of an answer via email. This makes it easier to track your questions without having to constantly check back into the Community.
You can also subscribe to forums. When subcribed, you are notified of any new posts, keeping you updated on new information and answers.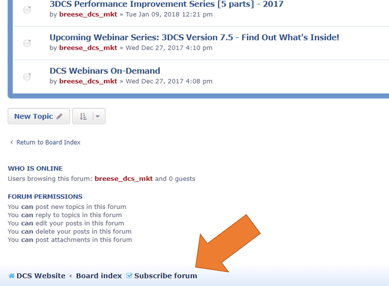 Use the 'Subscribe Forum' button at the bottom of any forum page to get notified of any new posts.j
What's in the New Community?
The New Community houses all of the questions and answers from the old community, and gives you the ability to ask questions on a variety of topics.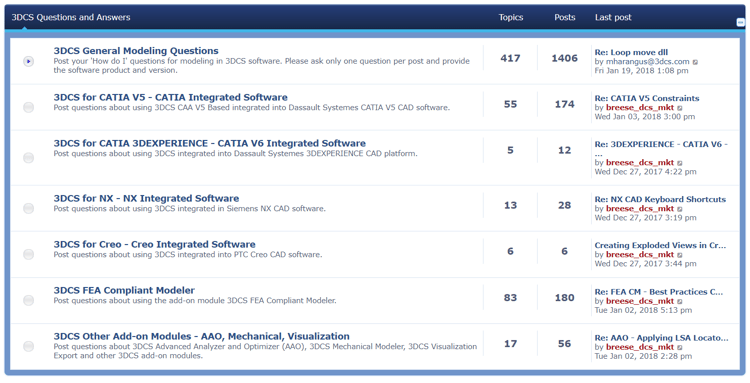 The Community also holds a large archive of dimensional engineering articles and videos. Watch webinars on demand, or download technical articles on the features you are most interested in.

More on the Way
DCS is looking forward to adding more content to the Community. With the next update, the Help Manual will be available through the community, as well as more videos, whitepapers and articles.
Join the Community today and get answers to your tolerance analysis and SPC questions