What's New in 3DCS? Find Out with the 7.5 Webinar Series Starting Next Week
by Benjamin Reese, on Jan 17, 2018 1:16:14 PM
The Webinar Series Takes You Through the New Updates in 3DCS Version 7.5
With this new version of 3DCS, you will find a plethora of new features and quality of life updates to make your modeling easier, and get you results faster.
3DCS Version 7.5 Webinar Series - Learn About New Features, Tools and Updates
5 Sessions - 5 Topics - Jan 25, Feb 22, Mar 22, Apr 26, May 24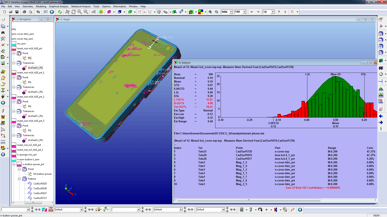 Part 1: 3DCS Version 7.5 – What's New! – Gary Bell
When: Thursday - January 25th - What's New in 3DCS 7.5
Time: 11 AM EST
Where: Gotowebinar
The first session is an overview of Version 7.5 and the new features, improvements and updates, with the following sessions delving into particular tools and features based on feedback from attendees.
Scroll down to learn more about the individual topics!
Sign up once to get access to all 5 sessions!

Part 1: 3DCS Version 7.5 – What's New! – Gary Bell
Thu, Jan 25, 2018 11:00 AM - 12:00 PM EST
Join for a quick overview show and tell of new updates including: X-Plane Move, New Reporting, Simulation Based Sensitivity, Interface Updates, multiple processor support and cloud analysis computing.
Part 2: 3DCS Version 7.5 – X Plane Move – How to Use The New Best Fit Move for 3DCS
Thu, Feb 22, 2018 11:00 AM - 12:00 PM EST
"The greatest move since slicing bread."
The X Plane Move is a 6 plane move that allows for more than 6 planes to be specified, and then best fits your parts. It is a powerful move that can be used in a large variety of situations and may become your go to move for modeling in 3DCS. Learn how to use it, and see a number of example models (which will be provided afterwards to try on your own!) to start using this new move.
Part 3: 3DCS V7.5 – How to Use Your 3DCS Model for Downstream Quality - Measurement Reports, Tolerance Negotiation and Management Reports
Thu, Mar 22, 2018 11:00 AM - 12:00 PM EDT
Version 7.5 brings new applications of 3DCS to supply your manufacturing teams with measurement plans that correlate measurement points to your CAD points allowing for fast uploading of measurement data and powerful problem solving and validation in your 3DCS model. What's more, this same process supports the creation of management reports, slimmed down reports that focus on metrics and quality callouts that are easy to read, use and communicate to stakeholders and project leaders. Finally, these same tools can give you powerful evidence to negotiate tolerances with suppliers or customers to improve quality.
Part 4: 3DCS V7.5 – How to Address
Meanshift
and Non-Linear Analysis with
Simulation Based Sensitivity
Thu, Apr 26, 2018 11:00 AM - 12:00 PM EDT
Simulation Based Sensitivity (SBS) comes to AAO to give you the ability to accurately assess non-linear models and determine meanshift, or account for meanshift in your results. This webinar focuses on the application of SBS to get answers, rather than the technical nuts and bolts of the tool with the goal of preparing you to start using SBS right after the event (and offering a free trial so you can test it out yourself!)
Part 5: 3DCS V7.5 – How and Why to Use Worst Case Analysis in 3DCS
Thu, May 24, 2018 11:00 AM - 12:00 PM EDT
Worst Case Analysis often comes up in the same sentence as tolerance analysis. Find out how 3DCS handles Worst Case, and what tools are at your disposal, and how to use them, to create these analyses.
Register Once to Join All of the Webinars
One registration gets you access to the entire series, both live events and the recordings.
3DCS Version 7.5 brings a lot of updates and changes with it. We know it is easier to see the updates first hand that read about them, so join us next week for the first of the 7.5 Webinar series.

Interested in learning more? Download the update list and read about some of the features in the new version of 3DCS.