NEW Version 7.6 for 3DCS Variation Analyst - CATIA, NX, CREO Integrated and Multi-CAD
Learn about the new features in 3DCS Version 7.6 and the updates to the software
Every major update of 3DCS includes some major features, which are demonstrated in the DCS Webinar Series for that version. To join the webinar, click below:

In addition to these major features, DCS is constantly fixing, adding, updating and cleaning up other features in the software. These many updates are often overshadowed by the big features like the new GD&T GUI, but are important to many users. Download the What's New? for the full list.
With two new key Features, and over 100 enhancements, Version 7.6 brings with it a variety of quality of life improvements.
Some Update Highlights: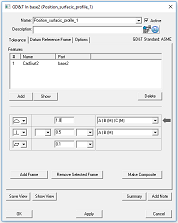 Model Variants:

The new Model Variants functionality allows for multiple MTM's configurations to be saved in the 3DCS model.
GD&T Dialog:

The GD&T dialog has been revamped for all platforms. Users can now:

Update GD&T, Push back Range and Offset values to the CAD platform. The GD&T dialog will replace the Feature Tolerance.
-- Find out What's New in Version 7.6 [PDF] --