A New Dimension - Digital Technology Uses GD&T Language to Give Manufacturers an Advantage
by Benjamin Reese, on Aug 8, 2018 10:34:56 AM
A New Dimension - Digital Technology Uses GD&T Language to Give Manufacturers an Advantage


As seen in Manufacturing Today, Jim Harris discusses the benefits manufacturers have experienced by adopting GD&T into their process.
Analysis tools like Dimensional Control Systems' (DCS) 3DCS Variation Analyst technology are being applied by manufacturers to improve quality assurance and component design, thereby reducing costs while helping deal with shrinking product lifecycles.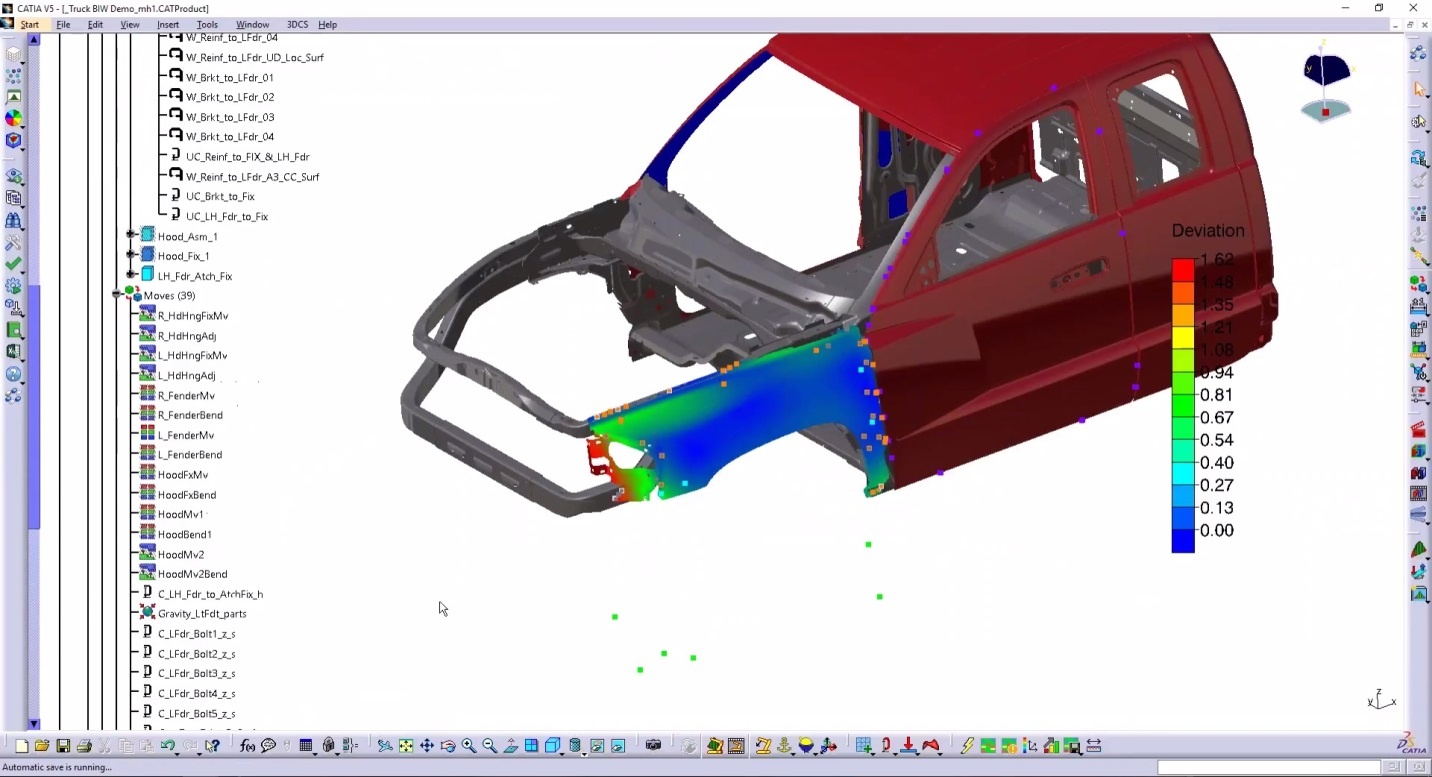 The technology takes advantage of Geometric Dimensioning and Tolerancing (GD&T), the standard language used in manufacturing to define and communicate engineering tolerances. The language is also used to determine acceptable component and assembly variations.
"Companies used to use GD&T on 2-D paper drawings of products, but now it is being incorporated into 3-D digital CAD models," DCS Marketing Manager Benjamin Reese says. "3DCS and similar tools optimize and validate the GD&T through simulation, making sure products will function as designed, and giving suggestions on how and where to improve it."
Digital GD&T can help manufacturers reduce scrap, rework and part non-conformance, and increase overall part quality. "Companies that are ahead of the game in using [digital GD&T] are seeing a competitive advantage in costs, quality and time to market," Reese adds.
Benefits of GD&T
Automotive and aerospace manufacturers are leading the way with the application of digital GD&T technology. Applying digital GD&T to frame rails, aircraft skins, fuselages and body in white assemblies, these manufacturers are able to accurately simulate part and process variation and then take steps to control and reduce its impact on the final build.
"Digital GD&T also streamlines the manufacturing of parts. It eliminates the need to reauthor information when performing a tolerance analysis model, eliminating errors from the design release process by giving users better control of data, and coordinates design with quality checks," DCS Senior Dimensional Analyst Gary Bell says. "[The 3DCS software] automatically reads this GD&T, which is a time-saving benefit."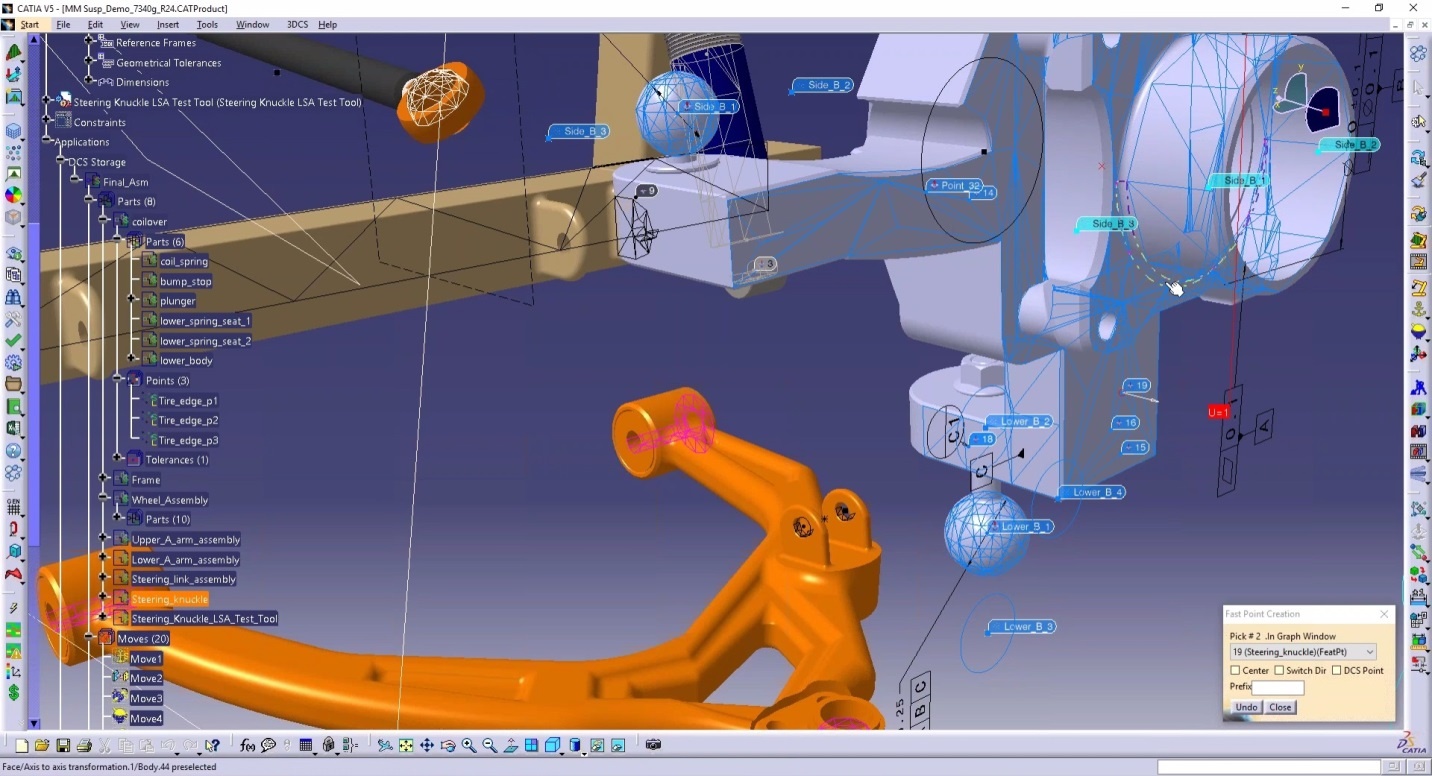 The GD&T language defines the part variation, which manufacturers use to determine how to make each part. "Our [3DCS] system uses that information in the tolerance analysis model to predict and verify that the part's tolerances can meet the assembly requirements," Bell adds.
Software analysis tools like 3DCS are installed either on a workstation or on a company's server. Functioning as a plug-in for the company's existing 3-D computer-aided drafting (CAD) software, these tools add key simulation and analysis to existing CAD models. By incorporating the manufacturing GD&T and CAD model in an integrated environment, engineers and designers have the ability to design to manufacturing requirements, produce validated GD&T for the plant and predict production issues with simulation models all from within their familiar CAD system.
"CAD itself only works in perfect parts; 3DCS makes those parts real by adding manufacturing variation from part tolerances and assembly processes," Reese says. "The GD&T within 3DCS incorporates the design requirements in a model and simulates building the product virtually. It tells you where you will have issues in production and what your percentage failure rate will be if you start manufacturing your product right now."
Manufacturers using digital GD&T can use this information to determine which tolerances are critical to their product and which are not. "They can loosen up non-critical tolerances to produce the product for less while still maintaining their quality goals," Bell says. "Because they are building their product electronically, they can catch design flaws in advance, which reduces the amount of corrections they have to make when they go into production, saving them money."
Customer-Driven Technology
DCS's 3DCS technology is fully integrated within well-known CAD platforms. These include Catia, Siemens NX and CREO.
DCS also offers a multi-CAD version of 3DCS that functions as a standalone tool by importing CAD data. Like its counterparts, 3DCS Multi-CAD uses embedded GD&T to simulate part variations and display potential build issues.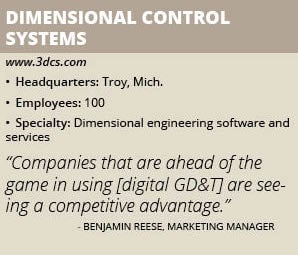 DCS updates the 3DCS technology annually based on customers' requests. "We are highly customer driven," Reese says. "We want our customers to tell us what they need or what they want, because that drives product development."
Spreading the Word
In addition to incorporating GD&T within the 3DCS platform, DCS also offers clients training and consulting services so they can best use the language within their operations. This includes two 20-hour courses covering basic and advanced GD&T.
"There are a number of reasons to adopt GD&T at your company," DCS says. "GD&T provides a clear and concise method for defining a reference coordinate system on a component or assembly that can be used throughout manufacturing and inspection.
"This reduces misinterpretations," the company continues, "and the need for costly engineering changes and rework that can result from a lack of clarity."
GD&T also offers manufacturers dramatic time savings and can be used within accepted design-for manufacturing methods.
"By using GD&T, engineers dramatically reduce their need for drawing notes to describe complex geometry requirements on components and assemblies," Dimensional Control Systems says. "The proper application of GD&T closely dovetails accepted and logical mechanical design processes and design-for-manufacturing considerations."