Quality 4.0: Turning Engineering Simulations into Real-Time Production Validation at Aerodef2020
by Benjamin Reese, on Mar 11, 2020 11:29:25 AM
Join DCS at AeroDef Manufacturing 2020 for a Discussion on Quality 4.0
DCS Presenting at AeroDef 2020 on Quality 4.0 and Understanding the connection between engineering simulations, GD&T, and product validation.

March 19, 2020 11:15 am - 11:40 am at AeroDef Manufacturing 2020
Engineers commit to simulation-based design specifications, materials, and manufacturing processes in order to reduce the risk of build and assembly issues. This work optimizes the design and validates the GD&T in an upfront design process, but becomes disconnected from the actual measurement and production validation. By utilizing advancements in technology and digital tools, aerospace manufacturers can leverage Quality 4.0 to connect engineering simulation models to production validation measurements to leverage these designs in determining where and how to measure parts, and as parameters for comparing measurement results in order to determine compliance to specifications.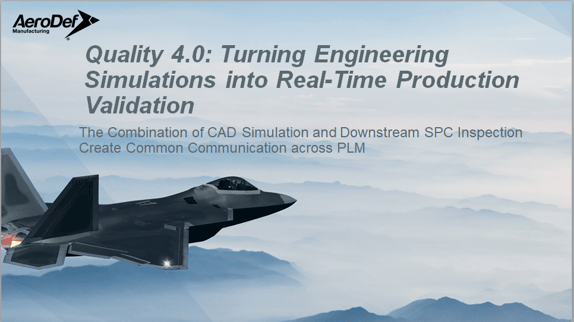 Once these two processes are connected, it becomes possible for a two-way flow of data as engineering can send their design specifications downstream for measurement plans, inspection processes, and validation while manufacturing can send their collected measurements upstream to engineering for root-cause analysis on production issues and continuous process improvement. This inter-connected ecosystem is now possible through Quality 4.0 by linking the systems used in these traditionally distinct disciplines and providing clear, easy access to the data for key stakeholders in the process.
This presentation will show a case-study of an interconnected process, and the tools and steps that enable its function. As part of this case study, the presenter will provide relevant inputs and outputs, and key tips to establishing this kind of process at an aerospace manufacturer.
Learning Objectives:
Understand the need for interconnected systems in a modern supply chain and product life cycle.
Determine a methodology for connecting engineering and manufacturing through QMS and simulation solutions to provide answers using clear, data-driven communication.
Explain the value of using the GD&T and simulation done during design as a driver for inspection and manufacturing quality throughout the product life cycle.