See It Live - NEW 3DCS Design Variation Modeler - Easy to Use Tolerance Analysis Software
by Benjamin Reese, on Jan 26, 2021 2:00:27 PM
3DCS Design Variation Modeler joins the 3DCS Solution Suite for Tolerance Analysis Simulation
Upgrade from your Excel Tolerance Stacks with 3DCS DVM, an easy to use 3D tolerance analysis tool fully integrated into your CAD platform. Get real answers, save valuable time, and expand quality throughout your organization.
3DCS DVM (Design Variation Modeler) is an entry-level equation-based 3D assembly GD&T prediction tool integrated in the major CAD Platforms.
As an easy-to-use tool, 3DCS DVM is built around using a single multi-purpose 'move' to assemble products, and analyze in 3 dimensions. Utilizing CAD PMI to quickly build models by extracting GD&T, Moves, and Measures straight from the CAD, DVM makes modeling quick and efficient, helping you get answers you need.
Learn DVM quickly
Get answers fast
Use irregularly without retraining
Now Available On-Demand!
Stop Doing Excel Stacks - Benefits of DVM vs. Excel Stacks
Excel tolerance stacks can be helpful to get answers quickly. However, as soon as the stack includes more than a few parts, includes 3 dimensional variation, or even 2 dimensional variation, the task becomes long and time consuming. Then, when changes are made, the tolerance stack needs to be redone from the beginning.
DVM solves these problems by making initial stacks quick to build, including 2D and 3D variation, and most importantly, allowing for instant updates from design changes to see the new results.
Take into account the 3D effect
Create (reusable) virtual prototypes
Run what-if studies
Construct Multistage assemblies
Reduce calculation time
One single source of answers for Model Based Definition (single model vs spreadsheets)
Quick change management – no need to rebuild with each change
Reduce manufacturing risk
Reduce manufacturing costs
Easy to Learn and Use 3D Analysis
Getting started with DVM is easy. With an intuitive interface and the ability to use CAD PMI to speed up modeling, DVM becomes a simple choice to replace Excel stack ups.
Easy to learn and use 3D Analysis
Faster and more accurate than a 1D stack
Integrated into CAD - Design change & PMI
Scalable solution to 3DCS Variation Analyst
Available to a broader team
Fully Integrated into CATIA, 3DEXPERIENCE, NX, CREO, and SOLIDWORKS
With fully integrated options, users open 3DCS DVM as another workbench within a comfortable CAD environment. This improves adoption, speeds up training, and makes using DVM simple to incorporate into existing processes.
3DCS DVM is also available as a Stand-Alone software for any CAD Platform
Save inside the CAD model – easy model file management
Follows the model – easily integrates with PLM (TEAMCENTER, 3DEXPERIENCE, Enovia, Windchill)
Work in the same environment – no translations or exports
Use GD&T & PMI to Support Model Building
How easy is it to build a model in DVM? See an example created entirely from CAD PMI -->
Part of 3DCS Solution Suite
3DCS DVM is part of the DCS Scalable Solution.
This tool provides broad access to tolerance analysis for your organization, allowing for fast stacks to be calculated and tolerance models to be made quickly, with little training.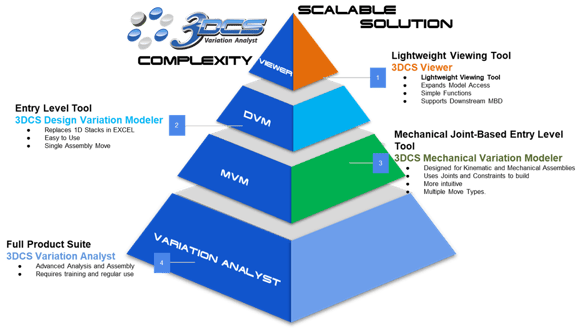 If complex processes or difficult conditions exist in your product, you can flag your models and pass them to a Specialist to use 3DCS Variation Analyst, the advanced analysis version for high complexity analysis.
Click Below to Watch On-Demand