Meet the Presenter Gear Modeling Webinar - Tom Oetjens, CAE Integration Corporation
by Benjamin Reese, on Sep 1, 2020 2:29:08 PM
Tom Oetjens Is Presenting Gear Modeling Simulations on September 24th - Find Out What He Brings to the Conversation
Tom Oetjens brings more than 40 years experience working with CAE applications, putting him in the perfect position to develop new methods of modeling and analysis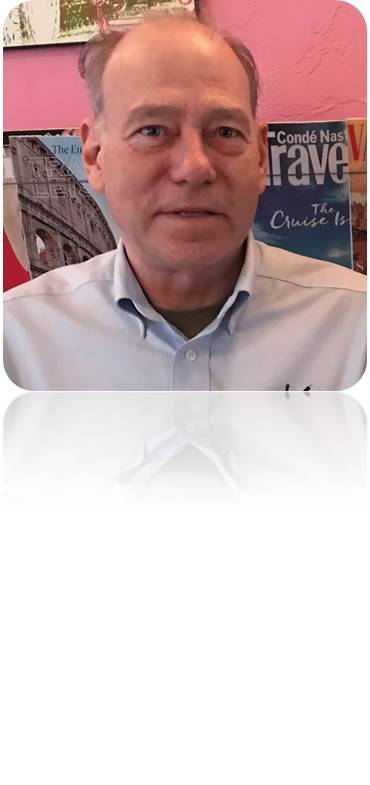 Tom Oetjens has over 40 years experience in CAD/CAM /CAE experience in building computer aided applications and implementing start up technologies.
As an accomplished application architect, his vision and expertise has resulted in advanced computer-aided technical applications being put into production. Many of these are firsts and have been recorded as corporate intellectual property, including three patents.
Significant competitive advantages were developed in industrial metals technologies:
Die Face Sculptured Surface Machining, Sheet Metal Springback, Morphing, Die Face Generation, Assembly, CMM Inspection, Forming, Warm Forming, Hot Stamp, Edge Crack Detection, Plastic Stress Analysis, Aluminum HPDC Casting
Material Properties, Databases and Generators, Design of Experiments
3DCS Developments in: Analysis of Casting Machining Stock, DOE of Contributors, Assembly Clamping and Welding Simulations, Gear Train Analysis
Tom's achievements have been recognized through numerous awards, including General Motors highest honor, the 2007 GM "Boss" Kettering Award and the General Motors Research Most Valuable Colleague Award.
His career has spanned and crossed many boundaries. The span of organizations are from manufacturing to product engineering and some aspects of product design. Tom has frequently transitioned from technical developer to start up manager, technical leader, production manager and back to a technical innovator in a related area. This constant education and training during his career were well supported by General Motors, Magna, AAM and Right Management classes. Mathematical and research capabilities were developed while obtaining a Masters of Arts in Mathematics degree from Oakland University. His organizational, project and employee management skills were enhanced by a Masters in Manufacturing Management from GMI (Kettering University).
One of the most exciting areas is to add capability to existing groups to improve the accuracy of CAE predictions by automated procedures. Tom's technique uses a phased implementation. It starts from an automated thread, spanning the application with fast tangible results. The development process then builds the advanced capabilities layer by layer, with user feedback, until the application is complete. Tom's development of the technology layering process, documented and maintained from the beginning, is essential for success.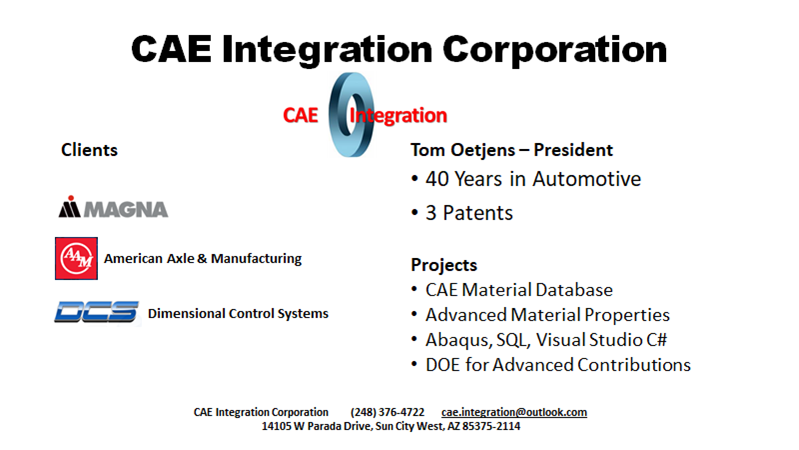 About CAE Integration Corporation
Michigan: Founded 2015 as CAE Integration Incorporated
Arizona: Founded 2019 as CAE Integration Corporation
President: Thomas Oetjens
CAE Integration is a consulting firm which provides Proof Of Concept models, analysis, and intellectual property documentation. Contract CAE analysis is also available.
Advantages of CAE Integration:
Experienced with Professionals from Research Scientists to Plant Floor Associates
Competitive and Thorough Quotations and Rates
Experience, Methods, and Processes for Development of Custom Technology
Recent Experience in Developing Metal Technologies:
10 Years in Materials - CAE Metal Models
4 Years in SQL and C# Material Database Experience
4 Years in Driveline Products
3 Years in managing casting analysts in HPDC, High Pressure Die Casting
CAE Software Experience: 3DCS Variation Analyst (including Mechanical Modeler, and FEA Compliant Modeler), UG NX, CATIA, FreeCAD, Abacus, Autoform, LS-DYNA, PamStamp
Project Development Software: Visual Studio
Documentation:
Metal Technologies Top Ten:
1) Material Generators, Material Databases and Design of Experiments for non-linear, multi factor analysis for CAE integration
2) CAD surface morphing for springback compensation
3) Automated Die Face Generation and One Step Formability analysis to improve Safety Crash analysis
4) Math Based Functional Evaluation of sheet metal assemblies dimensional analysis and improvement using 3DCS
5) CMM inspection CAD surface touch
6) Sculptured Surface Cutter Path Generation for End Mills
7) Aluminum Warm Form and Hot Stamping simulations
8) Sheet Metal Edge Crack and Dome Test simulations and physics
9) Gear and Complex Mechanism simulations with 3DCS
10) High Pressure Die Casting, HPDC, quality improvements and machining stock analysis with 3DCS
Hear from Tom Oetjens on September 24th at DCS' Webinar Showcasing Gear Modeling and Analysis