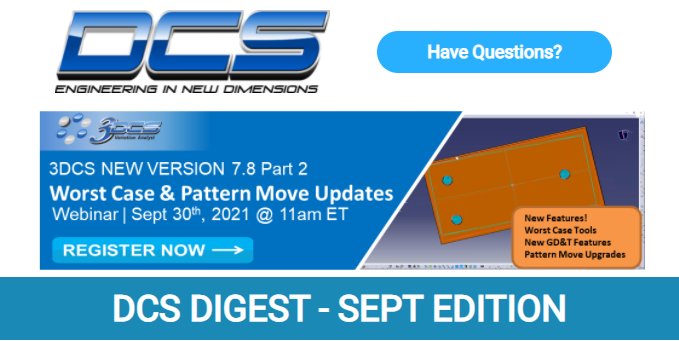 3DCS Version 7.8 Introduces New Features and Functions
The next webinar in the 3 part series for the new version of 3DCS will be Thursday, September 30th. The series covers the new features in the recently released new version and then ends on October 28th with a spotlight on the updates in 7.8.1.0.
Read the What's New Document for all the Details on 7.8
The 7.8 series will showcase four new features:
Fast and Easy Gear Modeling with new Gear Module

Collision Detection

Updates to Pattern Move

Updates to Worst Case with 3DCS software

PLUS the update 7.8.1
Click to Register for the Series
Part 2: Updates to Pattern Move and Worst-Case in 3DCS Version 7.8
September 30th, 2021
The second part of the 7.8 Webinar Series will focus on the updates to the Worst-Case tools in 3DCS as well as the Pattern Move.
Worst Case Analysis
3DCS has been updated with more options for your worst-case analysis. These tolerance stack-ups set the values at their greatest values, showing the largest range of variation possible. Additionally, there are worst-case scenarios that cause the greatest amount of risk and product failure which may not be from setting all values to their largest amount.
Learn about the options within 3DCS to perform a Worst Case study including:
GeoFactor and BiModal Analysis

Statistical vs. Worst Case Results

The impact of Bonus (LMC/MMC) and Datum Shift (MMB/LMB) on a Worst Case study

3D effects for a Worst Case analysis
3DCS Pattern Move
The Pattern Move is an important tool for any engineer using 3DCS. This assembly process allows you to simulate patterns of holes and pins, and see how they align and fit with your given tolerance specifications. This can help you understand whether parts will fit in assembly, or require adjustments to specific holes, or changes to slots in order to assemble correctly without the need to enlarge holes or alter the parts.
New features in the Rigid Pattern move include the ability to float slots onto pins and tabs. This is what is covered in this presentation:
Click to Register for the Series
---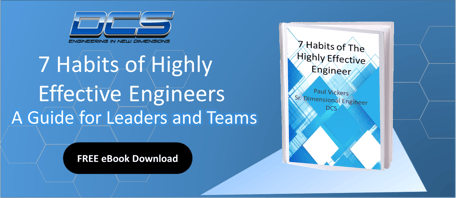 Based on Stephen Covey's 7 Habits of Highly Effective People written in 1989, this work contained seven habits to promote effective behavior and was added to in 2004 with an 8th habit. Many leaders I met over the years took this same class and it shaped them as well. Thinking of my life and work, this was one of the most fundamental impacts and drove the creation of these 8 habits for engineers.
-- Paul Vickers, DCS Sr. Dimensional Engineer
These are the 7 habits of the highly effective engineer. Each of Covey's has been translated to drive great behavior in the engineering world. Download the eBook the read all 7 plus the 8th habit!
---
DCS to Demonstrate SPC and QMS Solutions for Automotive Manufacturers
Virtual Event - October 5th and 6th
Download the Agenda
What is the AIAG Quality Summit?
Join us for two content-packed days during National Quality Month this year as we explore, "
Charging Up Your QMS: Innovative Quality Tools for a Digital Industry
" at the 2021 Virtual Quality Summit!
With two parallel tracks – one in English and one in Spanish – the 2021 summit will include both unique regional sessions and concurrent delivery of common content from OEMs and the IAOB.
This year's event comes at a crucial time when major industry stakeholders have announced plans to aggressively transition vehicle powertrains toward an electric future. These changes will have a lasting impact on automotive vehicle manufacturers, and the expectations and requirements for their suppliers of all tiers, for years to come.
To support these technological transitions and evolving quality expectations, AIAG's 2021 Virtual Global Quality Summit will explore innovations in quality tools and methods, including:
The impact of additive manufacturing and software product development on product development and validation in APQP and PPAP

The effect of digital/AI process control technologies on product traceability requirements in Control Plan and Warranty management

The impact of virtual auditing methods and technologies on the strategies and requirements for internal, supplier, and 3rd party QMS certification audits

And much, much more



---
Join DCS at the Quality Show in Chicago, IL, USA
Over 3,600 Quality Managers, Quality Engineers, Corporate Management, and Manufacturing Engineers explored the latest in inspection, process improvement, and metrology. The trade show and conference, produced by BNP Media, publishers of Quality Magazine, offers new products from hundreds of exhibiting companies, an insightful keynote presentation and dozens of education sessions focused on Big Data, Industry 4.0, Robotics, and Machine Learning as well as networking on the show floor and at an evening networking reception.
Highlights of the 2019 event, included:
Quality engineers, managers, manufacturing engineers, and executives from all 50 states and 20 countries attended the Quality Show representing leading companies including Abbot Laboratories, Caterpillar Inc., Cisco Systems, Honeywell Aerospace, Lockheed Martin, Nissan, Parker Hannifin, Siemens, and hundreds of others.

The exhibit hall floor had 125 exhibitors occupying 28,600 net square feet including Gold Sponsor ZEISS; Silver Sponsor BSI as well as Mahr, Minitab, ASQ, CMSC, Metrologic Group, and others. Over 70% of the 2019 show exhibitors renewed their booth space on-site for the 2021 Show scheduled for October 26-28, 2021 in Rosemont, IL.