DCS is Proud to Participate in the Future of Simulation and Modeling
The event brought together modelers and engineers from across industries to showcase the latest technology in simulation and as well as new solutions in modeling

DCS was proud to be a sponsor at the Dassault Systemes' 3DEXPERIENCE Modeling and Simulation Conference.
Lockheed Martin and DCS
DCS was mentioned in the opening statements by Clifton Davies of Lockheed Martin as a contributor to their recent success --
Clifton Davies is a Principle Aeronautical Engineer for Lockheed Martin Skunk Works®. In this capacity, Mr. Davies leads the creation of conceptual design tools, processes, and methods unique to early product development. His efforts drive the development of supporting discipline analysis tools to meet conceptual design needs, including but not limited to core sizing and MDO tools and methods.
In addition to his work in aircraft conceptual design tools and methods, Mr. Davies also serves as the Engineering Business Architect lead, providing oversight into the development and application of all engineering tools and processes for new programs.
DCS on Display
DCS had a booth to chat with clients both current and future. We're small, but proud.

Simulation on Parade
The event was focused on simulation and Quality 4.0. Many of the speakers discussed combining tools together to form unique solutions to complex problems, or new methods of simulating issues, like autonomous vehicle behavior at traffic intersections, to determine risks and resolve problems early.
Some Topics Include:
Electric, Connected & Autonomous Vehicles
Relating to electric vehicle engineering and development, including e-drive, powertrain, electric vehicle noise & vibration, thermal management, and batteries. Learn more
Robust Design
Relating to design of experiments (DOE), design space exploration, and parametric studies to validate the robustness and performance of structural designs to geometric tolerance, material, and assembly variation. Learn more
Structural Vibration
Relating to vibration, dynamics, and test correlation for structures and assemblies. Learn more
Print to Perform (Additive Manufacturing End to End)
Additive manufacturing applications in 3DEXPERIENCE provide a single unified environment for designers, manufacturing specialists and simulation analysts to collaborate on generative design, build planning, virtual printing, and post-processing. Learn more
Gifts and Prizes
Many vendors offered auction and raffle prizes. Some prizes given out were better than others...
Better than some pens and a notepad, amirite?
Our prize was won by Joy Jossy Korumilli, CAD Designer and Quality Control Manager at Legend Fleet Solutions.
We weren't well acquainted with Legend Fleet Solutions, which has an interesting background:
Legend Fleet Solutions was born in 2004 when a British rubber business moved to Canada to spread its wings. The passion began long before that, and that same enthusiasm for quality and service continues to drive our company today.
Now with an extensive network of dealers across North America, Legend Fleet Solutions is committed to providing your fleet with ultimate interior protection to protect your investment.
Experts in Fleet Protection - our team and products reflect this with their unbeatable quality and experience. Our meticulously crafted products host some of the market's most craved features, and are designed to help mediate interior temperature, decrease road noise, and increase resale values, to name only a few.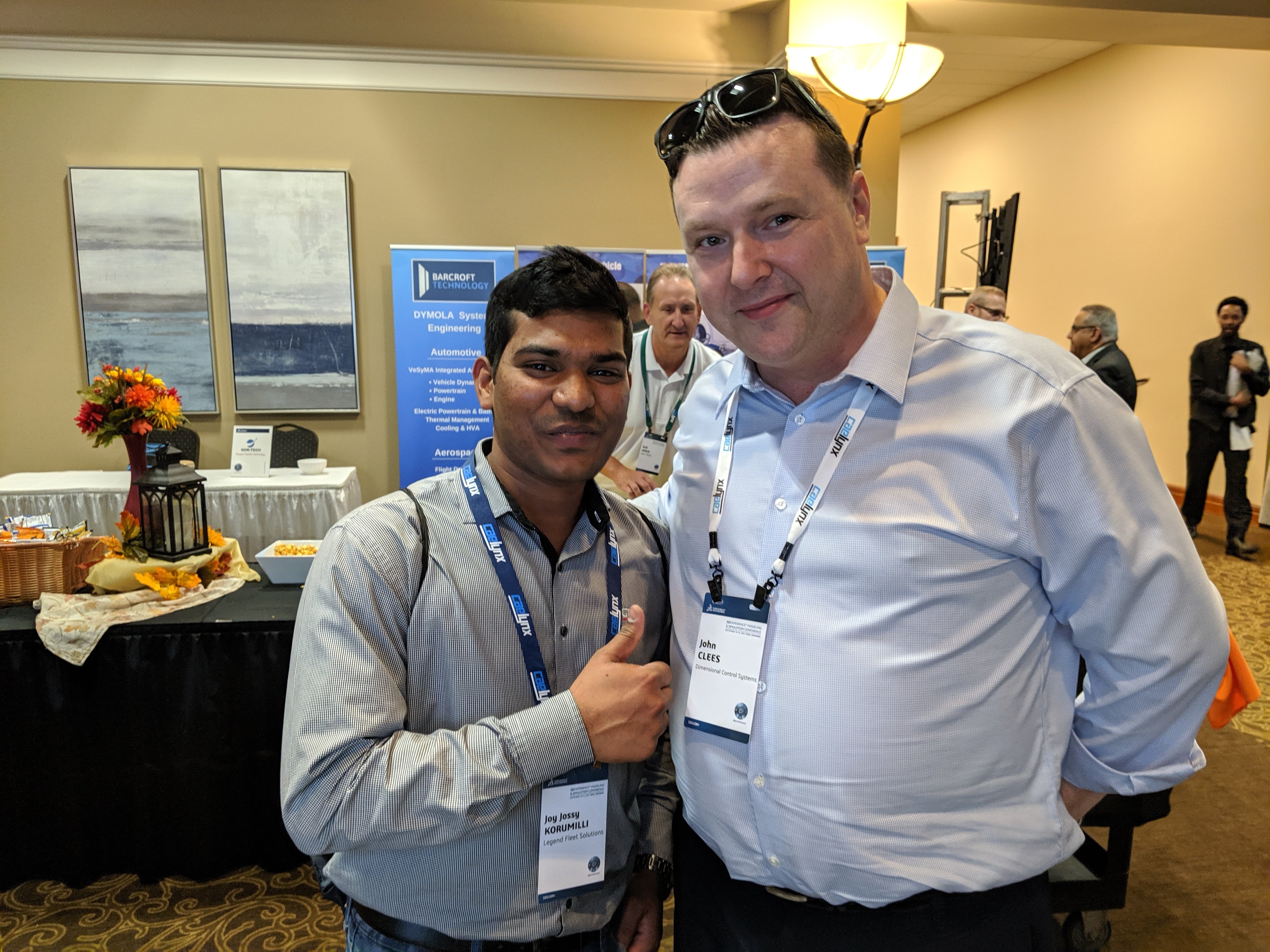 Joy Jossy, Legend Fleet Solutions, and John Clees, DCS Business Development
Legend Fleet Solutions has become the leader in fleet vehicle rigid flooring, rubber mats, and cargo-space wall liners. Your fleet deserves only legendary protection and that is why we embrace our mission of innovation and quality consistently. Please visit our website to learn more!

Interested in more from the event (Speakers, Agenda, Discussions)?