Available Now! Run Your Models in the Cloud - Get Results Faster While Offloading Computations to the Cloud
by Benjamin Reese, on Nov 30, 2017 1:16:17 PM
3DCS Users Can Now Run Their Models in the Cloud to Increase Analysis Speed and Offload Work to Free Up Local Computers and Licenses
Dimensional Control Systems is now providing cloud computing powered by Parallel Works to dramatically speed up analysis times and release local licenses for continued use
Increase Your Analysis Speed with Distributed Computing
Parallel Works is an innovative cloud-based platform that empowers users with "personal supercomputers". The platform enables users to seamlessly run large-scale jobs in parallel - across hundreds to thousands of computer cores - leveraging the scale of the cloud at the click of a button.
What Is Distributed Computing?
Distributed computing is a model in which an analysis is broken down into multiple threads. The threads are run on separate computer nodes on the cloud. Once complete, the results are combined to deliver a comprehensive output. By processing each thread in parallel, it increases the speed of the analysis - delivering results fast.

What Are the Inputs and Outputs?
You only need two things to get started with Distributed Computing -
1. Distributed Computing Powered by Parallel Works Web Account
2. Your Model's WTX File - Export from any version of 3DCS
Your results will be an HST file that can be downloaded as a basic report, or a raw file to import into 3DCS to display and review in detail.
How do you create a WTX file in your CAD system?
Click here to see in 3DCS for CATIA, NX and Creo
What Are the Benefi
ts of Using Distributed Computing
Speed: Run analyses in parallel to speed time to solution
On-demand license: Need to work on your model on your desktop while a job is running? Offload it to the cloud and continue to use your license to model.
Unlimited hardware: Scale-up in the cloud based on the need of your study to speed up big jobs.
3DCS Cloud Computing - Distributed Memory Parallelization
3DCS Distributed Computing uses cloud computer farms to provide greatly scaled up computing power. These are groups of computers off-site that can be utilized to run high demand processes much faster than using local machines.
This offers two great benefits:
1. Incredibly fast process speeds - time savings of 50%, 60% or even 70%!
2. Off-site computing means your machine is free to allow you to continue working on your projects
The workflow gives users a lot of control over how many machines they want to utilize, how many simulations and the hours they want to use. Generally, a more complex simulation requires more machine cores than a simplified simulation.

In addition, Distributed Memory takes advantage of Shared Memory to utilize multiple cores of each cloud computer, further multiplying your run speeds and giving even greater time savings!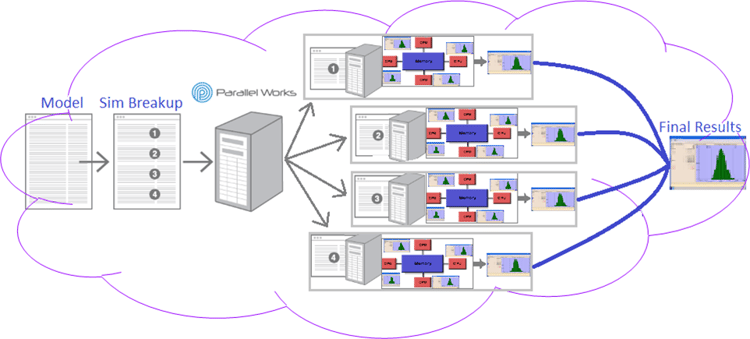 3DCS High Performance Computing - Case Study
D.J. Gray, Product Engineering Specialist from Magna Seating and Mathew Shaxted, Founder and President of Parallel Works, teamed up with Eric Kaphengst, DCS Programmer and the team at DCS to create a new solution for long model analysis and simulation times. This new solution is supported by the Parallel Works Cloud to provide scalable cloud based tolerance analysis.


DCS hosted a webinar show casing this Case Study and the new workflow. See the recorded session to learn first hand how Shared Memory and Distributed Computing can improve your tolerance analysis studies and save you valuable time.

Get Started Today!
The Distributed Computing platform is easy to start using. Credits are used to run analyses in the platform, which can be purchased in sizes tailored to suit the needs of customer's projects. DCS and Parallel Works are offering all users 300 free Credits to try the Distributed Computing platform and prove its value.
To learn more and get your free Credits, go to http://www.3dcs.com/distributed-computing-powered-parallel-works-cloud.