Dimensional Control Systems Partners with Parallel Works to Bring Cloud Computing to Tolerance Analysis
Dimensional Control Systems is now providing cloud computing powered by Parallel Works to dramatically speed up analysis times
Troy, MI, December 4, 2017 – Dimensional Control Systems has partnered with Parallel Works, to provide 3DCS Software users access to cloud computing. This new technology utilizes distributed computing solutions to run 3DCS analyses on scalable computing resources in the cloud, both freeing up users licenses and machines for continuing work as well as dramatically improving the speed of the analysis.

Parallel Works is an innovative cloud-based platform that empowers users with "personal supercomputers". The platform enables users to seamlessly run large-scale technical analyses in parallel - across hundreds to thousands of computer cores - leveraging the scale of the cloud at the click of a button. This makes studies that typically take hours, days or longer to be completed in a fraction of the time. With this new solution, users can determine how much cloud compute power to use based on the size of the job, adding additional machines for large jobs, or using only a few for basic analyses.
"By giving users the ability to offload their analysis to the cloud, they no longer have to wait for long run times before continuing their work," said Dave Johnson, 3DCS Product Manager at Dimensional Control Systems. "Not only does this free up local hardware and license, but now users can spend credits as needed to run their analysis as fast as they want. This means that priority results can be produced in minutes, while low priority ones can be allowed to run in the cloud over a longer period of time."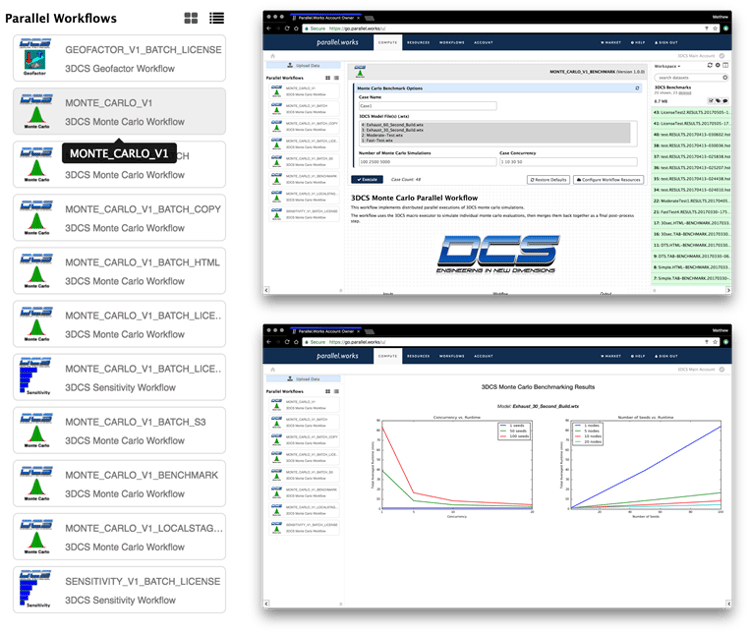 3DCS software is an advanced tolerance analysis package integrated into Dassault Systemes' CATIA, Siemens' NX and PTC's Creo CAD platforms. As the standard for variation analysis software across the automotive and aerospace industries, 3DCS offers powerful tools for engineers and designers to simulate their products assembly process and 3D tolerance stack-up to reduce scrap and rework as well as quality issues that could lead to warranty and liability claims.
"This partnership opens new options for our user base," said Donald Jasurda, Vice President of Dimensional Control Systems. "It is our goal to constantly strive to deliver the best possible tools for dimensional analysis. In doing so, we work to both improve the functionality of the software, and improve its ease of use. This new feature will give our users the option of increasing their analysis speeds as needed, increasing their productivity and delivering the results they need when they need them."
The Distributed Computing platform is easy to start using. Credits are used to run analyses in the platform, which can be purchased in sizes tailored to suit the needs of customer's projects. DCS and Parallel Works are offering all users 300 free credits to evaluate the Distributed Computing platform and prove its value. To learn more and get your free Credits, go to http://www.3dcs.com/distributed-computing-powered-parallel-works-cloud.
About DCS
DCS has been supporting quality management in industries including automotive, aerospace, medical device, electronics and industrial machinery for over 20 years. DCS solutions are used daily by companies like Airbus, BMW, GM, LG, Nissan, Phillips, Sony, Textron Aviation and VW. By applying DCS's 3D Model Based environment for Predictive Variation Analysis and Responsive SPC, manufacturers have reduced quality costs related to yield, scrap, rework and warranty issues. Read more at www.3dcs.com.
About Parallel Works
Parallel Works accelerates innovation in research, development and design with high performance computing. It empowers engineers with the controls to explore new frontiers by leveraging state-of-the-art automated workflow technology and scalable computing resources on demand. Made accessible through the Parallel Works HPC Hub, engineers can not only scale up their technical studies, but seamlessly collaborate and share knowledge across the organization. Learn more at www.parallelworks.com.