Performance Improvement Webinar Series - Improving the Speed, Quality and Outputs of Tolerance Analysis
Learn skills, tips and new features to improve your tolerance analysis experience with this webinar series
The Closed Loop webinar signaled the end to the Performance Improvement Webinar Series. These five webinars followed the FEA Compliant Modeler series and are very valuable to any 3DCS user. Designed with a teaching methodology in mind, these webinars were created to show how to use new features as well as how to take advantage of existing features. Make sure to use these and all the other webinars and videos DCS provides to improve your modeling skills.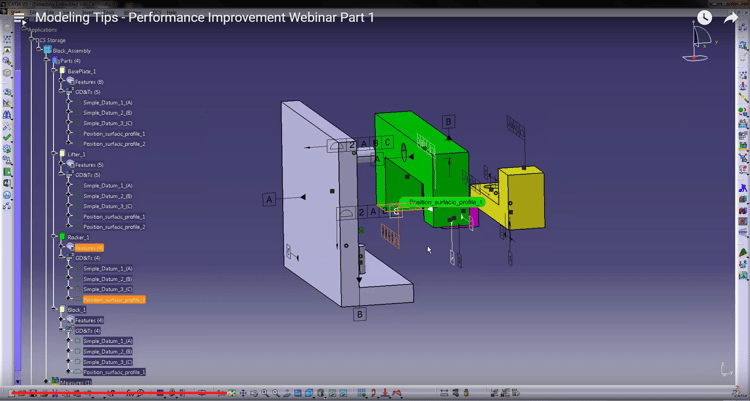 The Performance Improvement Series started with tips to help your model run faster, as well as improve the quality of your modeling. Many times, there are methods and tactics that can improve the use and speed of modeling without the need for any add-on modules or additional software. These quality of life tips can be as simple as turning on or off certain settings, modeling in a certain order or using different measure or move types.
You can view the webinar by clicking here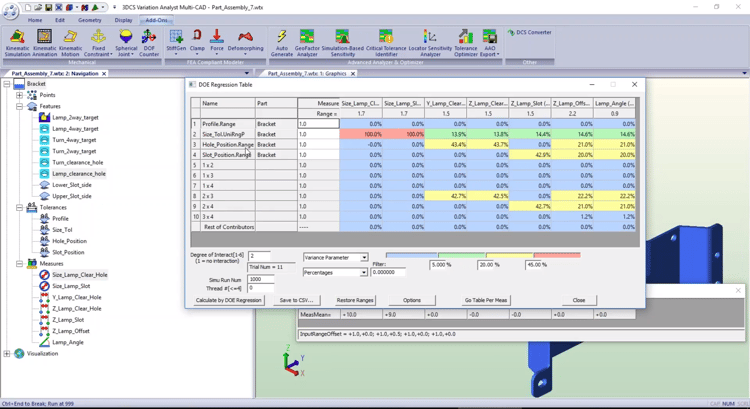 Following the Modeling Tips, DCS's Brenda Quinlan, senior variation analyst, showcased the new feature Simulation Based Sensitivity, coming to the AAO add-on module. This does require an add-on, but one that can be shared between multiple users (floating licenses), and brings with it five total optimization and analysis tools. The new tool, Simulation Based Sensitivity, gives you the ability to run your sensitivity and contributor analysis based on the Monte Carlo Simulation results. This gives more accurate results in some circumstances than the standard sensitivity analysis, but does take a lot more time to run. Some cases that would really benefit from Simulation Based Sensitivity include models with non-linearity and non-linear tolerances, complex part interactions that may cause tolerances to influence each other and models with mean shift.
You can view the webinar by click here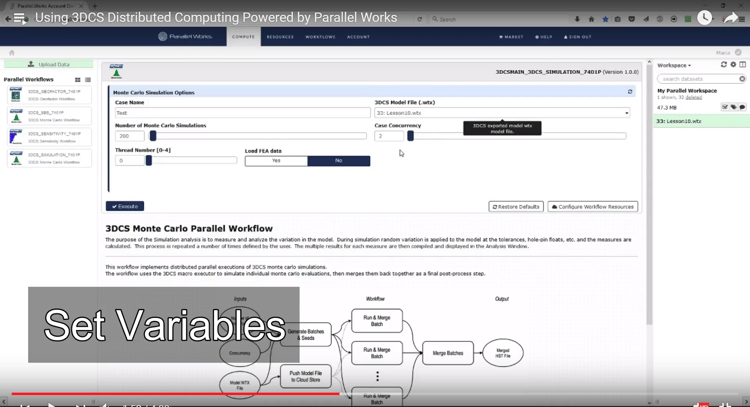 As an answer to long analysis times from Simulation Based Sensitivity and advanced analysis, such as Finite Element Analysis and large model stack ups, DCS partnered with Parallel Works to provide Distributed Computing. This new method of analysis uses cloud servers to run your analysis off site, and then deliver the results in record time. Tests with Finite Element Models (FEA) ran as much as 52 times faster when using Distributed Computing. To speed up your analysis even more, DCS has included Shared Memory in the new version of 3DCS, Version 7.4.0.1, which takes advantage of your computer's multiple core processors to split up the analysis and run the analysis in pieces before recombining it and providing the results. Together, these two methods can deliver analysis results as soon as you need them, freeing you to continue working while they run the analysis and giving you the answers you need as soon as you need them.
You can view the webinar by clicking here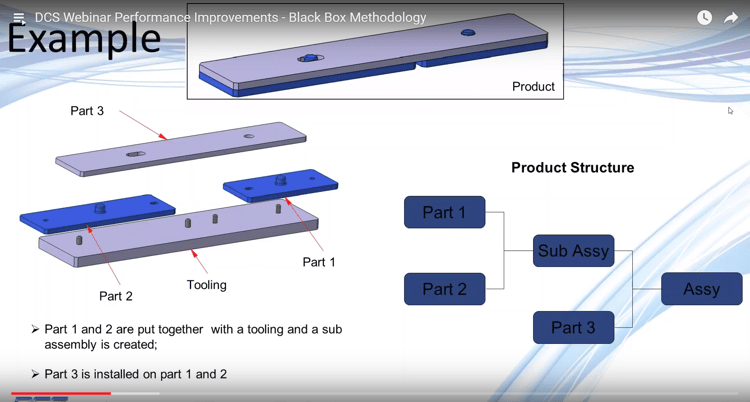 The fourth installment of the Performance Improvement Series demonstrated how to use Black Box Methodology. This method of modeling offers a number of benefits:
1. Increases analysis run speed
2. Hides proprietary modeling data
3. Removes the need for add-on modules to open the model (FEA Compliant Modeler)
4. Improves collaborative modeling with multiple modelers working on the same project
Learn how to use Black Box Methodology by clicking here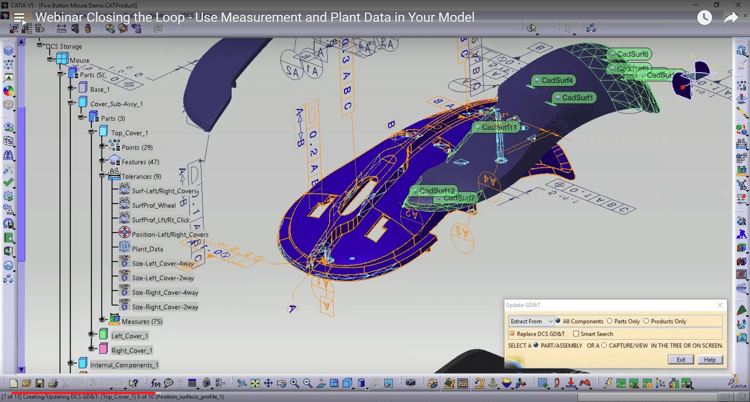 The final installment of the series showcased what DCS calls Closed Loop. This method of modeling brings plant and measurement data into the 3DCS model to simulate finished products. With this method, the user can compare actual products to the simulated results and determine the accuracy of their simulations. It can also be used to find mean shifts in production, and most importantly, root-cause and solve production issues. By using a simulated environment, not only can issues in production, like non-conformance, be root-caused to their true source, but solutions to the problem can be tested and validated before being implemented. Stop using trial and error to solve build problems, and instead, resolve them quickly, efficiently, and completely with 3DCS Closed Loop.
Find out how to use the Closed Loop with 3DCS by clicking here
Looking to share with colleagues?
Here are all the links together to the series: (Remember to book mark the video after filling out the form so you can go back later without having to fill anything out!)
3DCS Performance Improvement Series (2017)
Part 5 - Closed Loop - Problem Solve by Using Plant and Measurement Data in 3DCS
Using measurement data from a CMM can give real insight into your production line, and help you discover mean shifts and product variation that may not have been represented in your simulation.
Click Here to View the Recording
Part 4 - Black Box Methodology
Black Box Methodology aims to turn sub-assemblies into single components when working in a model.
Click Here to View the Recording
Part 3 - Parallel Processing and Shared Memory
See how to speed up your analysis by 5000% or more!
Click Here to View the Recording
How do you export a WTX File? I'm glad you asked! Click to Here to Find Out
Part 2 - 3DCS Simulation Based Sensitivity - New Feature for AAO
See how Simulation Based Sensitivity helps you handle non-linear relationships and account for mean shift.
Click Here to View the Recording
Part 1 - 3DCS Modeling Tips
9 Modeling Tips to help you model faster, and save you a headache when creating variation analysis models in 3DCS.
Click Here to View the Recording
Don't use CATIA? Here are the buttons and click throughs (for explanations, watch the webinar above):
3DCS for NX | 3DCS for Creo | 3DCS Multi-CAD
Learn more at the DCS Community - https://community.3dcs.com/webinars/webinar-recordings