Learn How to Create a PowerPoint Report Out of 3DCS

3DCS Version 7.5 comes with new options for making reports, including automated PowerPoint reports.
With the latest release of 3DCS 7.5.0.0, users are now able to create 3DCS reports in PowerPoint and Word. The PowerPoint report requires a template, which can be modified to your standards or needs.
To see this feature and more from 3DCS Version 7.5 in action, join DCS as it hosts the 3DCS Version 7.5 Webinar Series --



To learn more about generating a Report using other methods or about the dialog, please review the Help Manual for more details (available to all DCS Community members. Register for Free at https://community.3dcs.com/ ).


Requirements:
Users will need to update to 3DCS Version 7.5.0.0 (Any CAD Version)
The template (dcstemplate.ppt) needs to remain with the default name and location
Do not modify the template -- deleting the saved images in the template could ruin the report creation.
A 3DCS Variation Analyst license (standard software - no add-ons needed) is required to use the PowerPoint report.
Building a Report:
How do I create a report using Power Point?
Where is the template (dcstemplate.ppt) located?
Editing or Creating a Model Summary
How do I create a report using Power Point?
Open a completed 3DCS Variation Analyst model.
Click Nominal Build and run a new Simulation.

While in the Simulation dialog, users can create and edit the report options.

To save or edit the report, click the Generate Report option.
Leave the Simulation window open and select Create Report.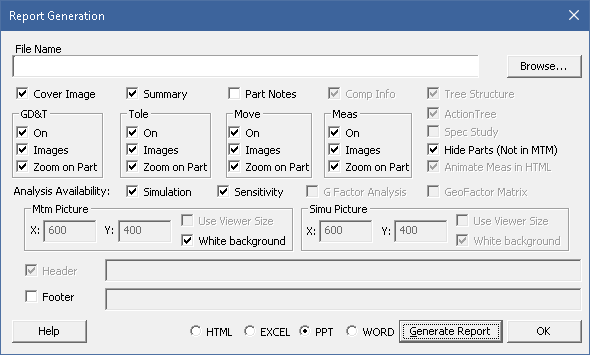 Where is the template (dcstemplate.ppt) located?
If you want to customize the PowerPoint report, you can find the template in the installation folder under the Report Images folder: C:\Users\<username>\AppData\Local\DCS\DCS_<Platform>. The file is called dcstemplate.ppt.

If the AppData folder is hidden - you can show all hidden folders or use File Explorer with the search path: %AppData%, which will take you to: C:\Users\<username>\AppData\Roaming. Just go up one level to Local\DCS\DCS_<Platform> and you should find it.

Open the template in PowerPoint. After making any changes to the template, make sure to save the new version as dcstemplate.ppt under the same folder. You may wish to change the name of the original in order to archive it for later reference.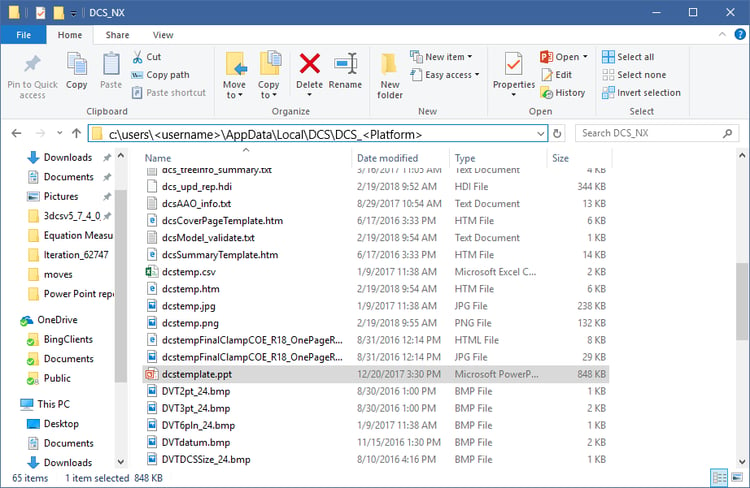 Editing or Creating a Model Summary
The Model Summary is the introduction story to a model. 3DCS allows a user to create a Model Summary before generating the report, but with the PowerPoint report, because the report will default to a single PowerPoint Slide, it is better to create the summary separately and then add it to the report after the report has been created. This will save you some time.

Here are some tips to create a great Model Summary!
Click Here to Download the Model Summary Template & Guide
Use this guide to write your summary, or to get ideas for the kinds of information you could include in your summary. A model summary is great place to put your modeling thoughts, processes, assumptions, and other details that later modelers and users may find helpful.
Making a report for management? We recommend a Management Report - which consists of more statistics, summary charts and color coded regions. DCS will be covering Management Reports in the March Webainr for the 3DCS Version 7.5 Series that you can sign up for below.
Learn more at the next 3DCS Version 7.5 Webinar, happening this Thursday!
Part 2: 3DCS Version 7.5 – X Plane Move – How to Use The New Best Fit Move for 3DCS
Thu, Feb 22, 2018 11:00 AM - 12:00 PM EST
The X-Plane move is a 6-Plane move that allows for more than six pairs of features to be selected and then best fits your parts. It is a powerful move that can be used in a large variety of situations and may become your go to move for modeling in 3DCS. Learn how to use it, and see a number of example models to start using this new move.