How Dimensional Engineering Supports DFMA (Design For Manufacturing & Assembly)
by Benjamin Reese, on May 18, 2017 3:51:14 PM
How Dimensional Engineering Supports DFMA (Design For Manufacturing & Assembly)
The goal of a well implemented and executed DFMA strategy considers the influence of product design characteristics, such as geometric features, material properties, and processing requirements on the fabrication and assembly methods which will be required for the product to meet its functional intent.
Dimensional Engineering (DE) is a cross functional methodology requiring engineering collaboration between the Design and Manufacturing domains of an organization. One of the key objectives of (DE) is to define the parameters for acceptable levels of variation allowable in manufactured components, while adhering to the dimensional requirements specified to meet the design objectives of the product. The common language used for communicating these dimensional requirements is Geometric Dimensioning and Tolerancing or GD&T, as it is generally referred too.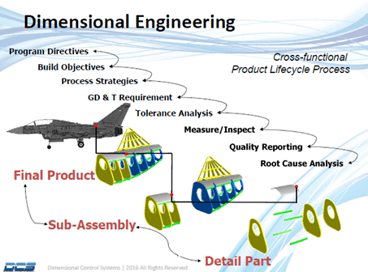 The Automotive industry has accepted GD&T as the standard approach to defining allowable variation. Industries such as Aerospace & Defense, Industrial Machinery, and Electronics are also at advanced levels of maturity in applying GD&T as a standard specification for allowable manufacturing variation on product features.
With this common language applied, product and process engineers work toward common objectives for dimensional quality, considering the key factors of performance, (meeting design requirements) and cost (meeting manufacturing requirements). To facilitate the execution of this process at nearly all OEM (Original Equipment Manufacturers) and Tier 1 (integrated system) Suppliers, a validation (known as Variation Analysis) takes place during the Engineering stages, applying model based simulation of production variation, considering the planned assembly process (including any tooling/clamping parameters), GD&T specifications, and validation method (measurement process) to be executed by Manufacturing.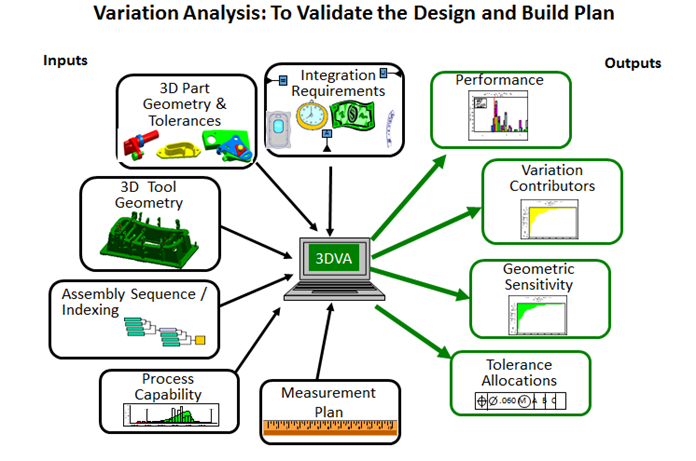 The outcome of the Variation Analysis is GD&T specifications and Assembly Process methods that have been validated by simulation rather than relying on trial and error or the - produce / trial / rework / adjust - approach, which introduces additional time, unplanned rework, and potentially scrap into the production cycle. The SAE paper 2012-01-1872 "Legacy 500 Empennage Assembly – Design for Manufacturing" provides a reference case study to this methodology.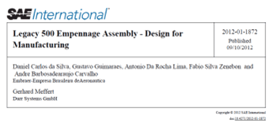 Click here to purchase the article from SAE International "Legacy 500 Empennage Assembly – Design for Manufacturing" or contact DCS