DCS Presents Automated Process Capability Analysis at AeroDef 2015
by Benjamin Reese, on Apr 16, 2015 10:08:11 AM
DCS Presents Quality Assurance of Major Aerospace Components through Automated Process Capability Analysis at SME AeroDef 2015 in Dallas, Texas
Dimensional Control Systems will highlight the benefits of using automated process capability analyses to improve quality assurance of major aerospace components throughout the product life cycle in order to reduce costs of quality stemming from scrap, rework and non-conformances.

Dallas, Texas – Dimensional Control Systems (DCS) will be presenting "Quality Assurance of Major Aerospace Components through Automated Process Capability Analysis" at the 2015 AeroDef Manufacturing and Composites Manufacturing event at the Hilton Anatole, Dallas Texas April 20 -23.This presentation showcases how aerospace OEM's and suppliers can use process capability indices to monitor their manufacturing across the entire product life cycle, and highlight methods of automating the reporting and analysis throughout the process.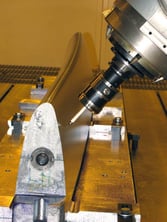 The aerospace industry is continually becoming more competitive. With an aircraft manufacturer's large number of individual components, and the large number of suppliers used to fabricate these components, it can be daunting to manage the quality of all parts of the assembly in an accurate, timely and actionable manner.
This paper focuses on a case study solution for setting up and monitoring the process capability of machined parts at an aircraft OEM. By creating standardized measurement plans and automating the analysis of the measured output, users can understand individual machine process performance and overall process performance in real time, as well as through automated reporting.
This solution begins in the design phase using 3D simulation to drive measurement plan authoring. This establishes clear guidelines to make sure measured data is accurate and reliable. The measured data outputs are sent into the database and analyzed, being reported as a process capability index. This is monitored in real time to track quality across the organization. Issues are reported and root caused using drill downs to find the source.
By showing outputs and set up, reinforced by customer data, DCS will demonstrate the method of creating actionable reporting and quality tracking for process capability at a major aerospace OEM.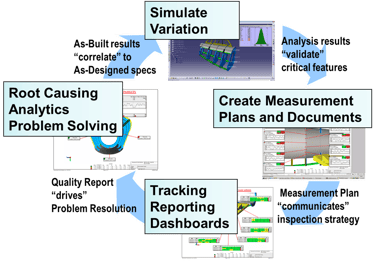 AeroDef 2015 brings together leaders from aerospace OEMs, suppliers and potential partners to meet the challenge of increasing demand: both in number and technical level of the aircraft. With hundreds of aerospace and defense manufacturing solutions being presented in technical sessions and discussions, industry professionals will be able to share their experience and learn from other experts in the field. Find out more at http://www.aerodefevent.com/about-aerodef/about-aerodef/.
For those unable to attend the event, DCS will be hosting a followup webinar e
vent on Thursday May 7th at 11 am EST to discuss the presentation case study and DCS's findings. Register is free. Click here to visit the registration page and sign up to reserve your spot. (https://attendee.gotowebinar.com/register/4432135035311599618)
Presentation Author:
Donald Jasurda
https://www.linkedin.com/in/donaldjasurda
Vice President of Sales at Dimensional Control Systems, Inc.
Author Bio:
Donald Jasurda brings more than 30 years of engineering process improvement experience to his role as Vice President of Sales at Dimensional Control Systems, Inc. (DCS) where he leads the sales and process transformation teams.
A graduate of the Milwaukee School of Engineering, Jasurda holds degrees in Industrial Engineering and Industrial Management.