Dimensional Engineer's (and me) Go Attend North American Auto Show
by Benjamin Reese, on Feb 11, 2014 12:24:00 PM
A Brief Adventure at the NAIAS
DCS took a trip down to Detroit, Michigan, USA to visit the NAIAS, North American International Auto Show. That's quite a title, but after seeing it first hand, I have to say a name well earned.
Being staged in Cobo Hall, there was plenty of space, with vaulting ceilings, and cars and trucks as far as the eye can see. I unfortunately, did not have a lot of time, and did not make it to the basement, where it is said all of the custom and student vehicle projects are displayed. The secret second show.
I was joined by DCS's Don Jasurda as we scoured in search of our customer's new vehicles, as well as a chance to see the new concept vehicles and dream cars.
For the sake of space, I'll keep this to some highlights.
As DCS has strong roots in Dimensional Engineering, I was naturally inclined to see Ford's new aluminum (aluminium?) bodied F-150. I've heard a lot about how light it is, and also about the bed capacity to flex. In fact, you can't go onto the web without hearing something about the new truck.
The new low weight and engine options will push this truck into some crazy fuel economies. An estimated 30 miles per gallon highway is incredible on a truck. I was in car rental not long ago, and I recall most of the vehicles were lucky to push 19 miles to the gallon. All the power of a truck, AND good gas mileage? That could raise the bar.
However, as Dimensional Engineers, our concern is the new aluminum material. Aluminum doesn't build like sheet metal. It has a lot more flex and spring back.
Quoted from Car and Driver's blog,
It Doesn't Just "Bolt Together"
Assembling full aluminum vehicles requires a unique process relative to steel-bodied rides, and the F-150 is no different. Although Ford won't go into specifics about how it builds its new truck, we were able to ascertain generalities about the process. Unsurprisingly, Ford's process of fitting body panels involves a combination of riveting and gluing, as well as some welding.
Just from this snippet, you can quickly tell that aluminum brings its own challenges. At the show, Ford had on display some of its machines and robots from its assembly plant, so we did see more about the actual manufacturing processes of these vehicles than before, however, as mentioned from Car and Driver, the specifics on the new truck were kept quiet.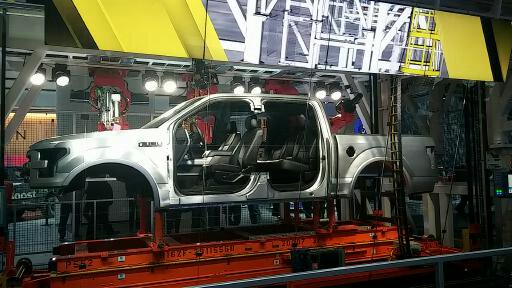 Having some experience with car hoods and roofs made of sheet metal, I have seen how spring back and the flexibility of the material can affect the way assembly, clamping and welding has to be applied.
With a quick search for "aluminum f 150 problems", you see a couple articles pop up about the troubles Ford has had adjusting to these materials, and it isn't just with building the vehicles.
Repairing aluminum vehicles is not easy. It's really hard. The material flexes and bends differently, so bumping out dents is not a simple trick. Repainting? Well, make sure you have a clean room. That is a $40,000 cost, as I don't see many small mom and pop repair shops being able to handle that.
I'm not saying this isn't the wave of the future, but Ford is leading the way with full vehicles composed of aluminium, instead of just parts like hoods, and in doing so is experiencing all the issues encountered with going down a new road.
As a part of DCS, of course my first thought is 3D-simulation with 3DCS and the Add-on Compliant Modeler to simulate how all the assembly processes would actually affect the material, and then allowing for possible solutions and various processes to be tested virtually. I know many manufacturers still make it, then fix it to match the design, but with the advances in 3D modeling and simulation, it seems like it would be much more cost effective to create a Virtual Assembly of the vehicle and remove as much variation as possible before building it. With an increased yield (production of products not requiring rework), it would really help with those lifecycle time tables.
I'm very interested to see how Ford overcomes this obstacle, as I am sure they will.
Some Great Impressions
We passed by a lot of vehicles that we couldn't help by hop in. Here are some highlights.
I had to stop by and see the new Jaguars.
JLR has done a tremendous job with these vehicles. Just sitting in it makes you feel adventurous, or that you should be driving by the ocean with the top down in the sunshine (please let the passenger take the video...). Of course, it is probably just because of the Arctic Polar Vortex coming down onto the North East (go to 2:22)United States like something out of Day After Tomorrow. I love that you can jump into and feel these vehicles up close. I don't think I will ever have the chance to sit in most of the vehicles otherwise (sorry, this guy can't afford a Jaguar).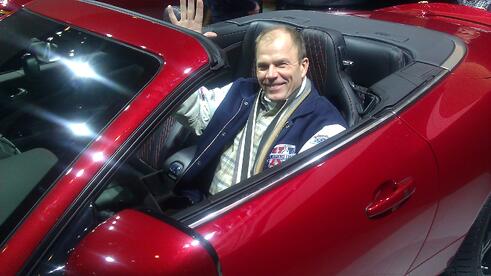 Don Jasurda, VP of Sales here at DCS, enjoys the look and feel of a new Jaguar.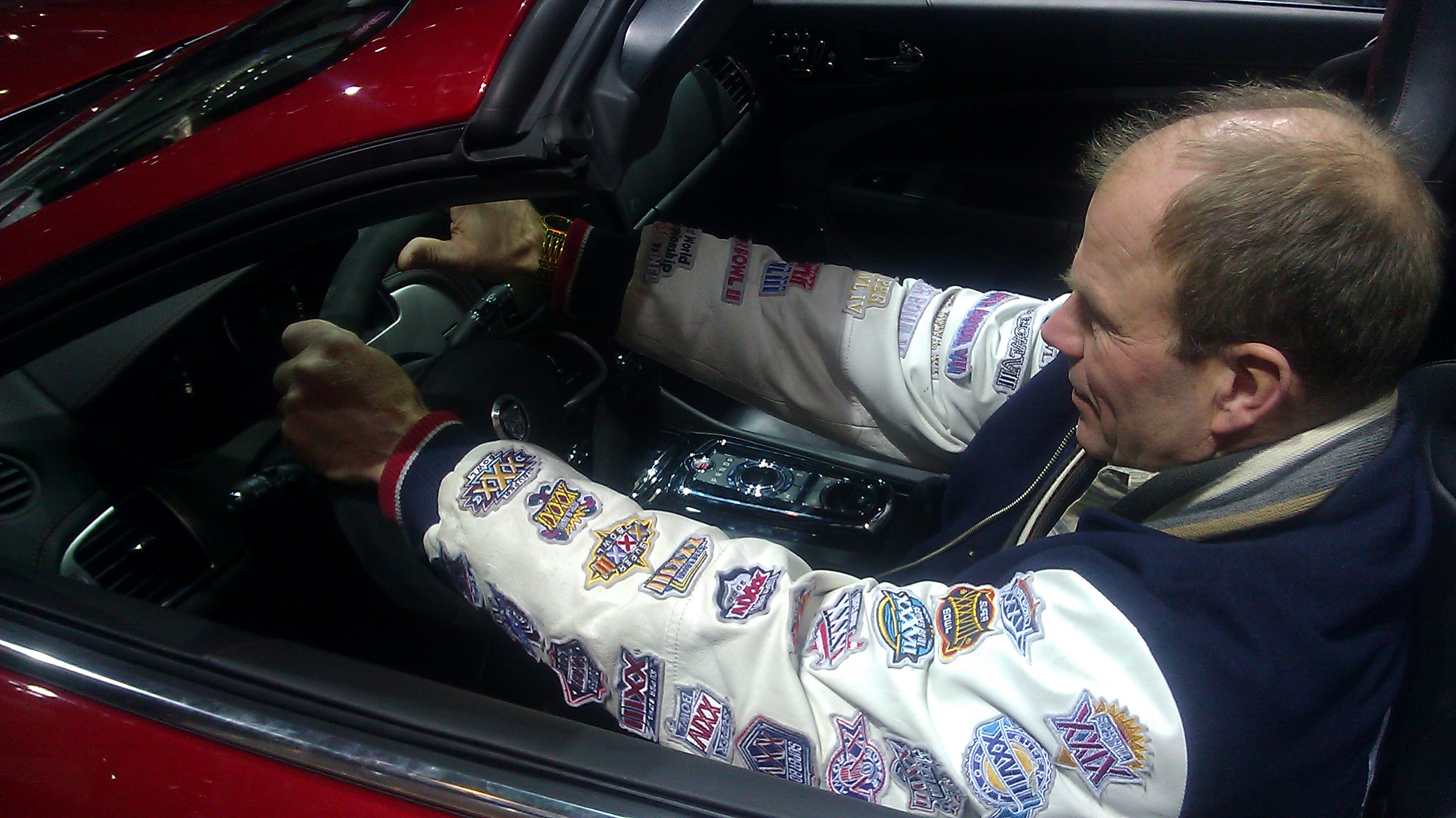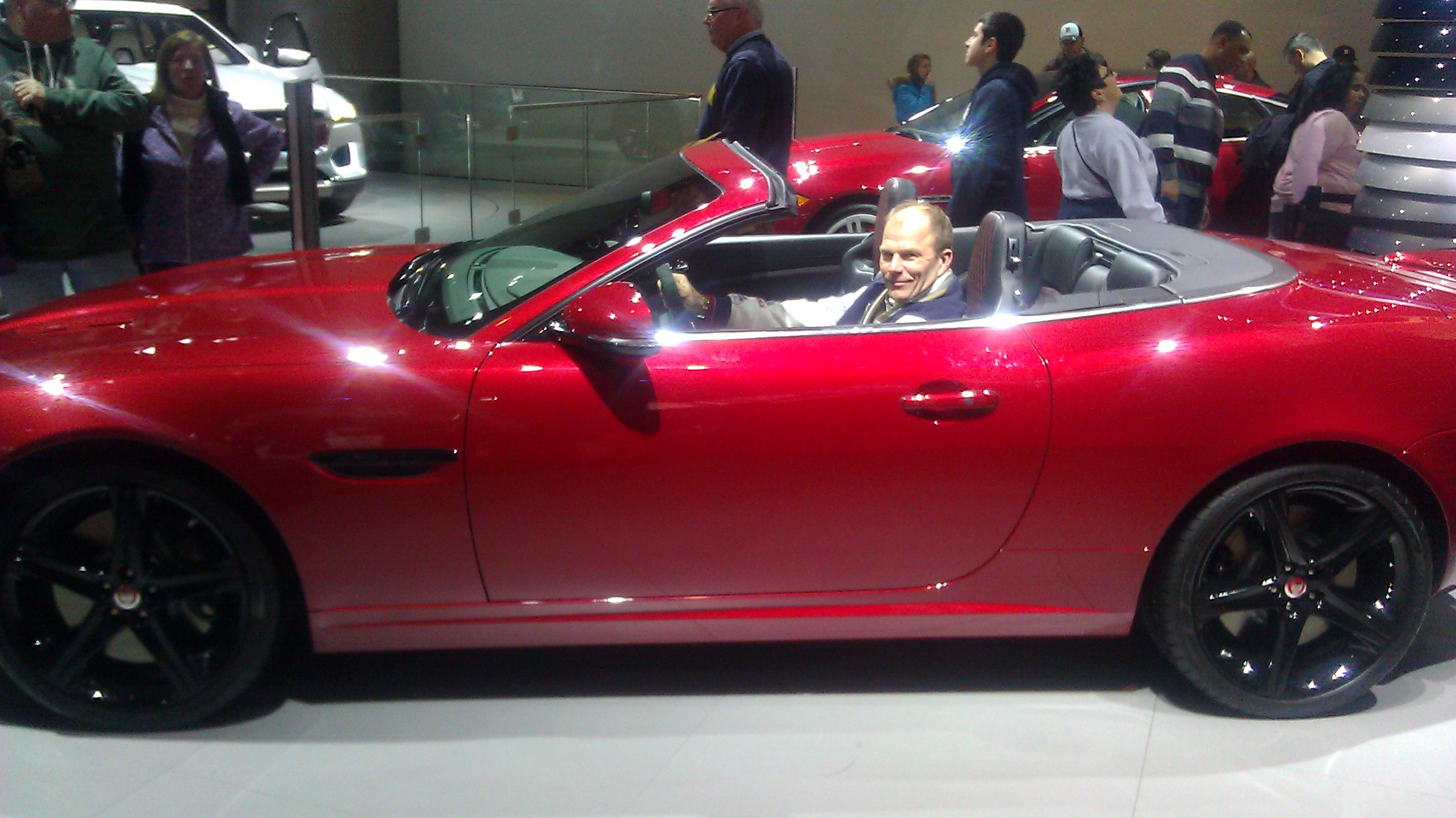 Chrysler had the new Dart out on display. As someone who would be looking to purchase something about that size, I for one am extremely happy to see all of the incredible new interiors and sporty cuts to the compact and mid size car range. Between the Dart, Chrysler 200 and Cruze, the mid size vehicles are looking a lot flashier than 10 years ago.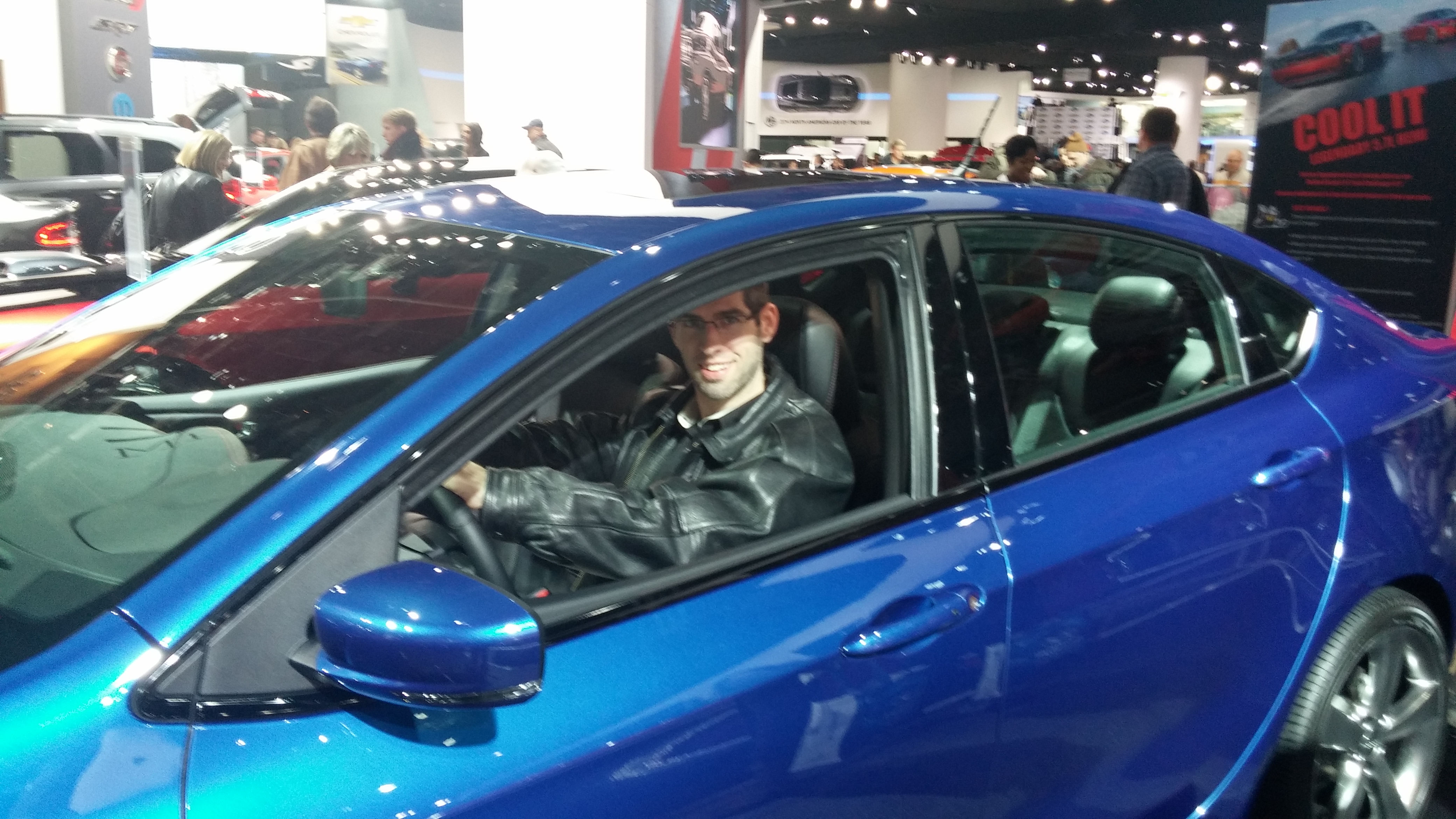 I can't help but hop in and drive.
The new Tahoe on display, a possible 2015 model, with some very cool features, stopped us dead in our tracks. With an all black exterior, tinted windows and because I'm a sucker for gadets, the real seller was the running board that retracts under the vehicle when the doors are closed. How many times have you clipped a 'cosmetic boulder' and dinged your running board? Or just knocked it off on a curb? Those kind of utility perks really sell me, because I don't have any money to spare for repairs.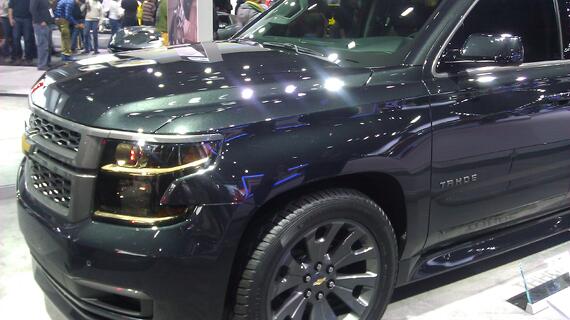 Can you see the running boards? No? Yeah they are there. Awesome.
We had to stop and visit Tesla. I have read quite a bit about the Model-S, and its incredible technology, but it is a whole different experience to sit and look at one up close.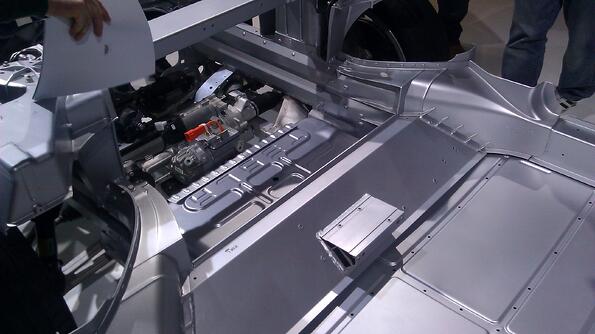 The engine (motor?) in the Model-S and the underbody for the batteries was slimmer than expected. With so little under the hood, it's no wonder the vehicle is so light.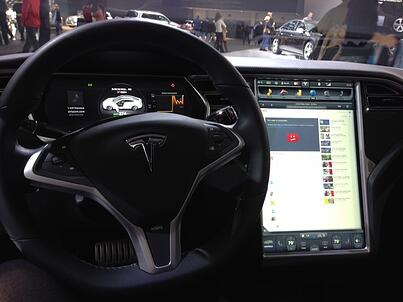 One big screen. That is the dash and all the dash buttons, settings, knobs and controls. Pretty incredible. I wasn't able to spend much time pressing the buttons, but I think it would be great to have the option to customize and move controls and dashboards around, to build a custom experience.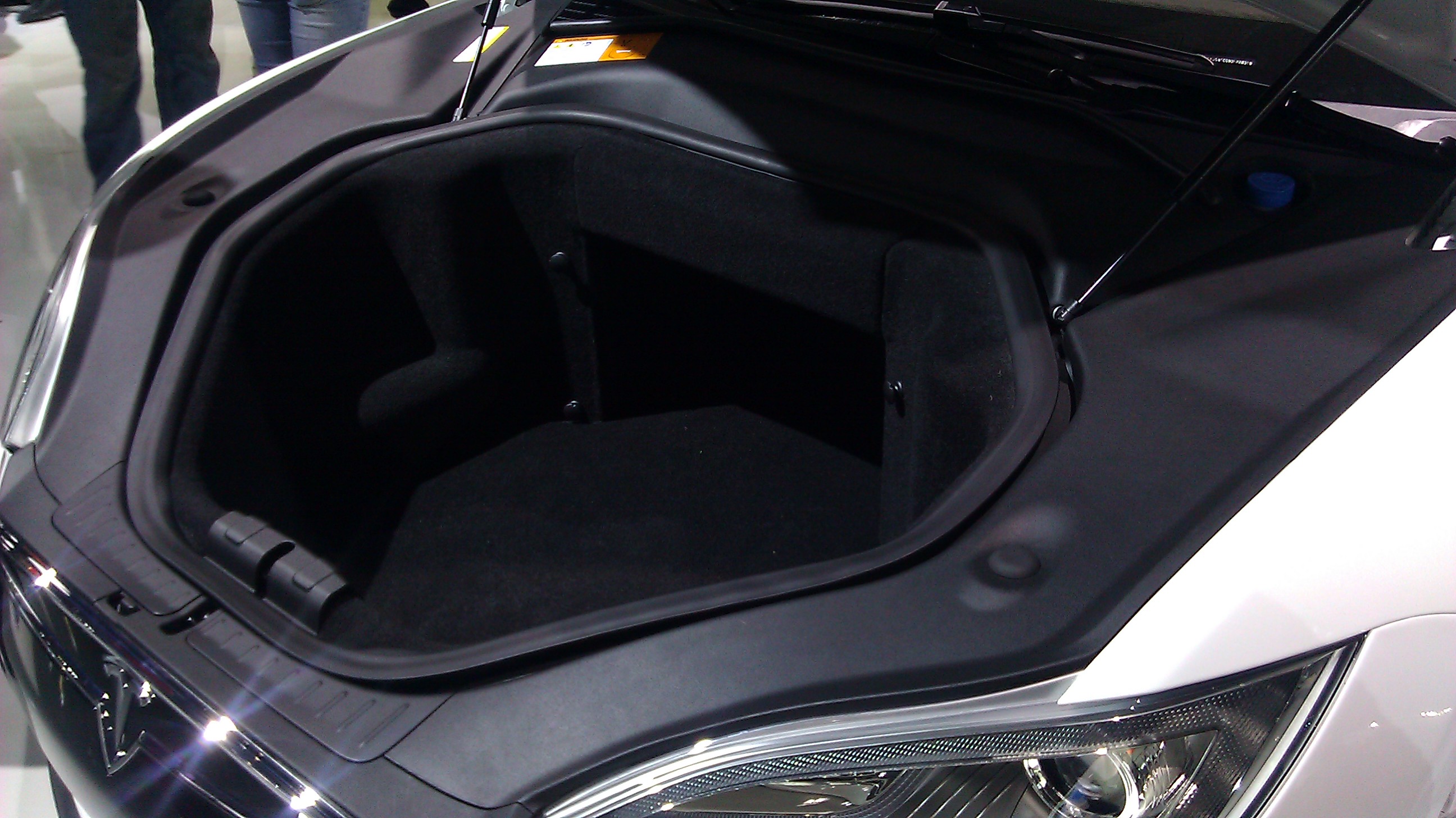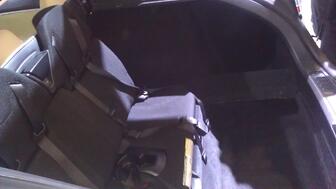 Above Left: The 'trunk' under the hood. Take a look at the center section, with an insert. Is that for a system and subwoofer?
Above Right: The 'true trunk' with seating for 2 rear facing passengers. This is old news, but it makes you wonder about this in application, as there isn't much car between the rear passengers and the exterior.
Well, I guess with the best crash test ever, it is a lot safer than it looks (ie without a trunk between rear passengers and rear bumper).
Okay, almost done.
The new Nissan concept car was incredible. I know the Datsun concepts beside it were very popular, but the sharp lines and sleek look of the concept car really stood out. I think what took me by surprise, and made it stand out the most, was the announcement that its style features will be incorporated into the Altima and other vehicles in the Nissan line. As a customer in that range of vehicle, that means that the average driver could be driving a sporty looking car with those sharp lines and 'boomerang' headlights while still fitting the kids in, and not losing your mind everytime they drop some juice or make a mess.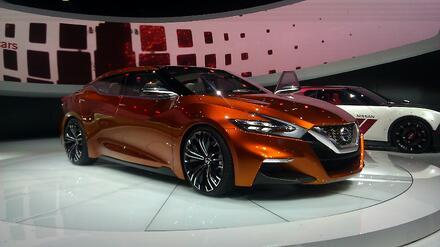 Pretty sharp.
Here's a great little concept vehicle from Toyota.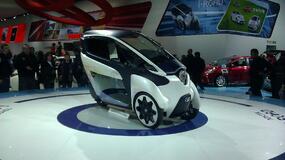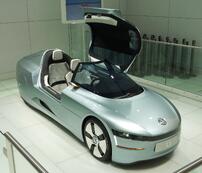 Left: Toyota concept, with 3 wheels and a great video. Right: The Volkswagn VL1
I didn't make it to the Volkswagon area (sorry!), but I have seen the VL1 before, and the predecessor that removed the rear view mirrors (for cameras). It looks small, but at 282 miles per gallon, it might make you think twice. These two vehicles look to be answers to the issue of crowded cities, smog and rising fuel costs.
Is Toyoto's concept a replacement for small cars in packed cities, or a new vehicle to join the scooter industry in cities with small roads and tight corners. It will be interesting to see where these concepts end up going.
Those are some of the highlights from the trip. You can feel from the crowd and the sheer volume of OEM's and new vehicles that the auto industry is rising. Here in Detroit, you can definitely feel the pulse picking up.
Some new companies bringing in some new ideas to the market: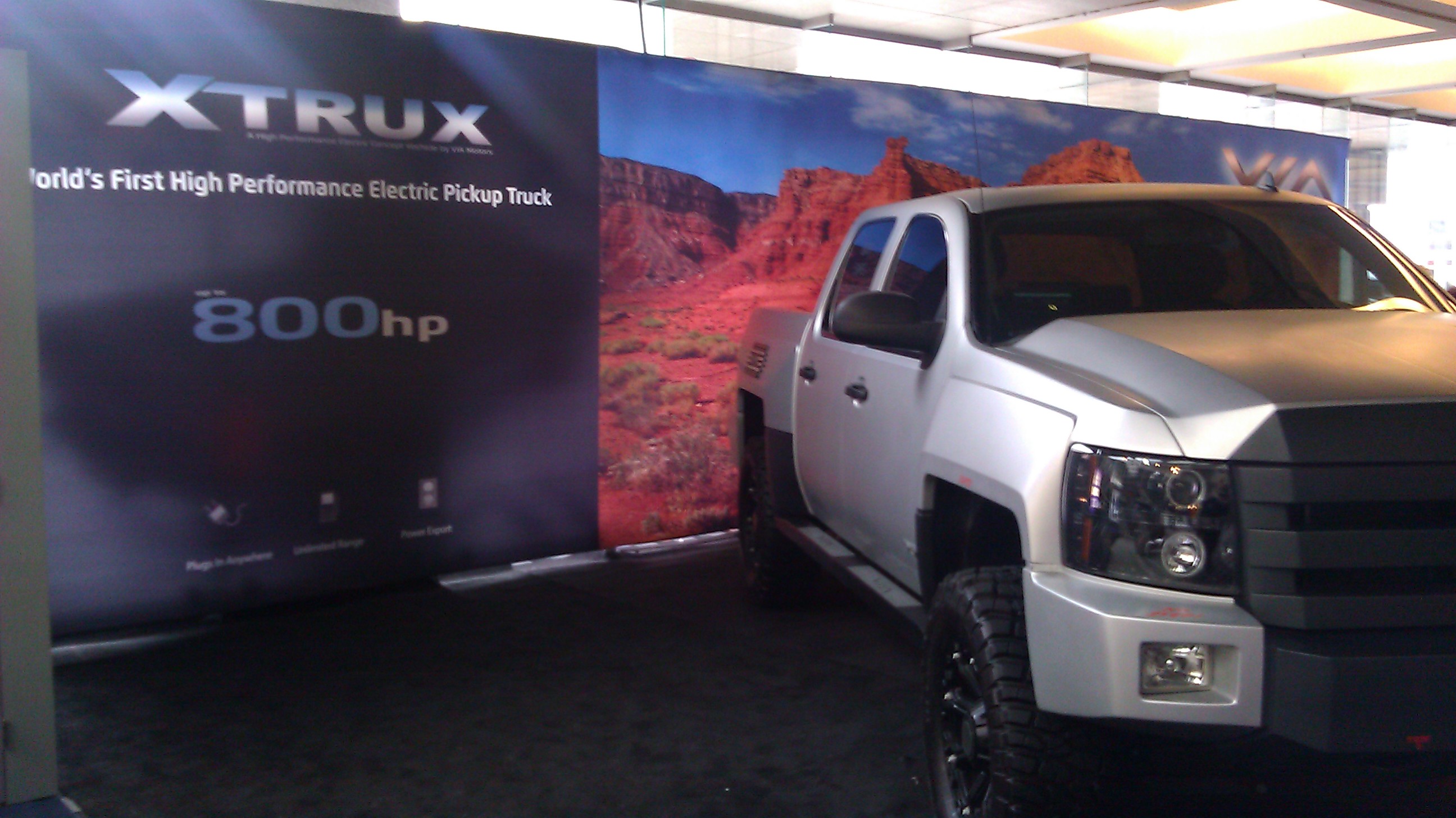 Above: XTrux, all electric trucks with 800 horse power. Is this going to change the way we see pickup trucks?
We saw a lot of other great features. Mounts for tablets in the dashboard, screens and new kinds of controls, and a personal favorite, full drop down laptops built into each seat (in the new Bentely).
What stuck out for you at the Auto Show? Were you surprised by any new products?
Let us know in the comments!
Regard,
Ben Reese
DCS Marketing