Using Datum Targets When Modeling in 3D CAD and CATIA
by Benjamin Reese, on Feb 17, 2014 2:41:00 PM
Using Datum Targets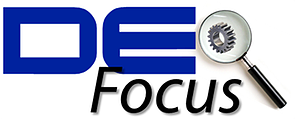 Note: This article uses 3DCS Variation Analyst integrated in CATIA V5 for its demonstrations. These can be performed in 3DCS Variation Analyst Multi-CAD, the stand alone version, as well.
Component Function Determing Datum Targets
Most times, the use of datum targets is dependent on where and how a component is used. If functional requirements allow using either whole datum features or datum targets, the manufacturing and inspection costs should be considered. See Figure 1(a-b) for an example. When datum targets are used, extra tooling is required to calibrate the datum target positions.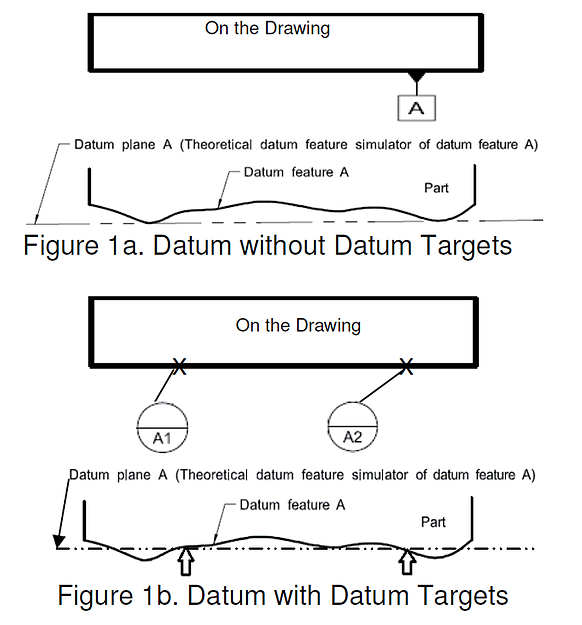 When to Use Datum Targets
There are certain cases where datum targets are preferred.
(D1) When a datum feature is complex
Datum targets are preferred when a potential datum feature has a complex or irregular shape. An example is shown in Figure 2 [ASME Y14.5-2009, P90]. In this case, datum targets avoid uncertainty during manufacturing, assembly, and inspection.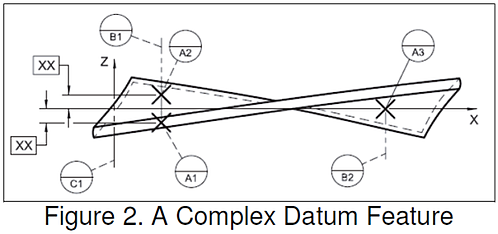 (D2) When a datum feature is uneven
A typical scenario is that some manufacturing processes, such as casting, forging, or welding, could produce uneven features, as shown in Figure 3 [Paul Drake, 'Dimensioning and Tolerancing Handbook, 1999, 5-90]. In this case, using datum targets can improve the datum repeatability.
(D3) When it is impractical to use the entire feature as a datum feature
An example is an automotive hood shown in Figure 4. The hood has an influential surface that is non-planar. To establish datums for the hood, datum targets are the easiest and least expensive solution. Multiple targets, at least four, are needed since the hood part is deformable.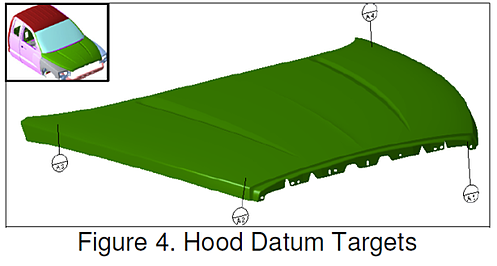 (D4) When only a portion of a feature is used as a datum feature
Sometimes using an entire feature as a datum is not necessary because of the functional requirement, see Figure 5 for an example [ASME Y14.5-2009, P88]. In this case, it is better to use datum targets to specify the functional portion of the feature.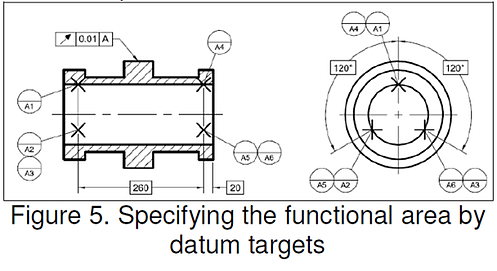 (D5) When stepped surfaces are used as a datum feature
Datum targets are preferred when establishing a datum from stepped surfaces. An example is shown in Figure 6.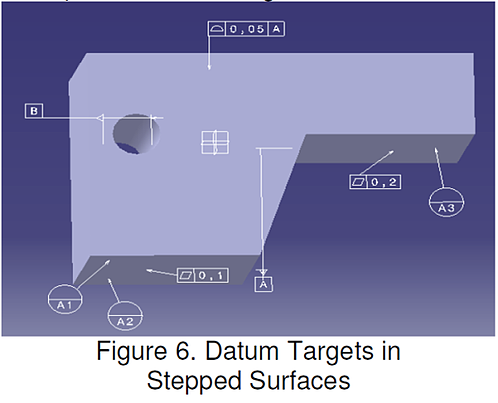 Datum Target Types
There are three types of datum targets [ASME Y14.5-2009, P38]: Datum Target Points (Figure 7a), Datum Target Lines (Figure 7b), and Datum Areas (Figure 7c).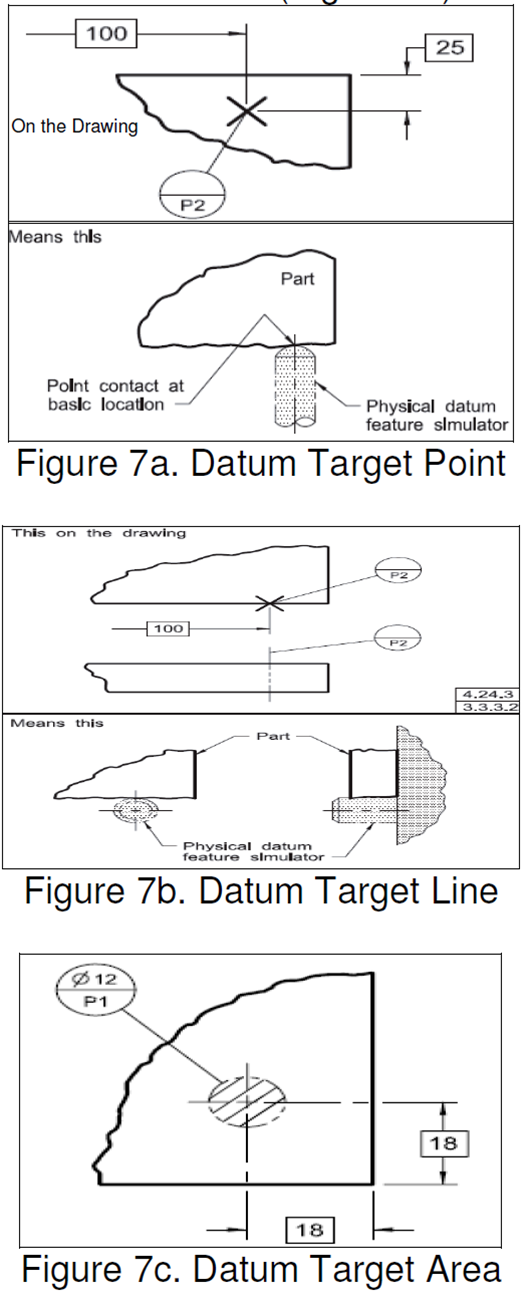 All datum targets should be marked with one of these symbols: Datum Target Point, Square Datum Target Area, Circular Datum Target Area, and Rectangle Datum Target Area.
Originally published March, 2013, in the DCS Monthly Newsletter
Editors:
Ying Qing Zhou
Earl Morgan
Victor Monteverde