Reception (Dinner & Refreshments) and Introduction
(Keynote Speakers: OU Representative and Oakland County Representative)
------>Technical Presentation (SME C69 Board/Industry Rep/ OU Rep)
----->Separate program for industry members and students
------> Students: SME HQ Presentation (Certifications, Membership, Leadership, Panel discussion for job seekers)
------> Industry Members: OU Engineering Lab Tours
------> Networking @ Rex Ox Tavern
EVENT SPEAKERS and TOPICS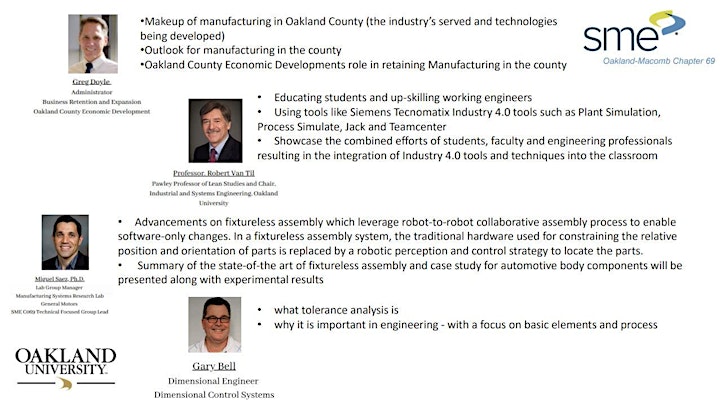 Our Speaker's bios:
Greg Doyle
Greg spent 20 years in corporate America where he worked in the Information Technology industry managing the North American Customer Support center and field support teams for multiple product lines. Later, Doyle worked in global purchasing where he managed the supplier diversity program for the GM account. While in that role, Doyle developed several strategic alliances and joint ventures that resulted in significant opportunities for diverse suppliers while also growing corporate diversity spending.
He is a certified Michigan Small Business Counselor and has counseled small businesses on a one-on-one basis for more than 20 years. Greg has over 10 years of experience with small business ownership from his time as president of Corporate Links, Inc. Doyle has been a small business counselor for the Michigan Small Business Development Center and the Oakland County Business Center. At the county, Doyle has provided counseling to small businesses and developed new training programs, initiatives, and programs for small businesses. Doyle is a certified FastTrac facilitator, Next LeveL trainer and has facilitated multiple entrepreneurship classes. In January of 2013 Doyle was named manager of the Oakland County Business Center. In this role,
Doyle manages a team of consultants that provide training, one on one consulting, financial analysis, loan package prep, strategic planning, market research, and process mapping for Oakland County-based businesses. Doyle also leads the Tech248 initiative for Oakland County. The initiative is tasked with helping Oakland Counties' nearly 3,000 Tech companies accomplish three critical objectives.1. Talent attraction2. Connection3. In four years the network has grown to over 1,700 members from over 700 different companies. Greg is also responsible for the Oakland Entrepreneurial Alliance (OEA) an alliance of the county's five largest entrepreneurial support organizations. Doyle earned his bachelor's degree from Michigan State University

Humam Alwan
Humam M Alwan holds a BS and MS in Industrial and Systems Engineering from Oakland University and is a Master Blackbelt in Shainin Red X problem-solving. He is currently pursuing his MBA at the University of Michigan while working at Stellantis where he has supported both the Grand Cherokee and the Wagoneer launches at the new Mack Assembly Complex and Warren Truck Plant respectively. He has led the root cause analysis for a combined savings of over $250MM and has coached over a dozen greenbelts and black belts in over $65MM worth of projects.
Prior to his manufacturing experience, Humam was the Head of Operations at a multi-clinic healthcare organization where he first learned to apply lean manufacturing principles. He also teaches the Flexible and Lean Manufacturing Systems class at Oakland University.
Miguel Saez, Ph.D
Dr. Miguel Saez is a Senior Researcher for General Motors Research and development, Manufacturing Systems Research Lab in Warren, Michigan. In his current role, he develops novel industrial robotics and automation solutions to advance the technology used for vehicle assembly.
Miguel has led multiple projects developing manufacturing and assembly systems for alternative fuel vehicle programs and developed new methods for modeling and control of manufacturing systems for multi-objective optimization of plant floor operations. In his current role, Miguel has been able to capitalize on his strong technical and leadership skills to develop new technology in the field of robotics. His work aims to enable coordinated movement of multi-arm systems using artificial vision and force sensing data fusion for robotic collaborative assembly operations.
Miguel holds a Bachelor's Degree in Mechanical Engineering from Universidad del Zulia, Venezuela, and a Master's Degree in Automotive and Manufacturing and a Doctorate Degree in Mechanical Engineering, both from the University of Michigan, Ann Arbor. He is an SME member since 2018. As an SME member, he is currently leading the technical communities for SME chapter 69.
Professor Robert Van Til,
Van Til helped recession-proof the careers of some of his graduates. In2007, he had the foresight to create a program in industrial and systems engineering (ISE). In the current, pandemic-catalyzed recession, a degree is one of only eight "projected to be great ones to target in the current economic climate," according to U.S. News & World Report. The department offers bachelor's and master's degrees in ISE and a doctoral degree in systems engineering.
"In close cooperation with the department industrial Advisory Board, ISE faculty created a curriculum to emphasize smart manufacturing and Industry 4.0," Van Til said. "The ISE department has created a series of hands-on courses that focus on the operation and application of various digital twin tools."
Anecdotal evidence of the program's success includes a Southeast Michigan-based automotive OEMthat hired a graduate as its first "digital manufacturing engineer." In addition, a German Tier One supplier hired an ISE graduate to work in its Detroit-area engineering center—as the first "digital industrial engineer" in the company's global operations.